MSI GT72S Dragon review: What it takes to get a laptop to game like a desktop
A full-on GeForce GTX 980 card and an overclockable Skylake chip are a good start..
To see how the part stacks up in a real game, I also ran Tomb Raider set to Ultimate quality and at 1920x1080 resolution. I unfortunately don't have our Zero Point at the lower resolution handy, but the only laptop that we've seen with more performance from is one with two GeForce GTX 980M cards in SLI.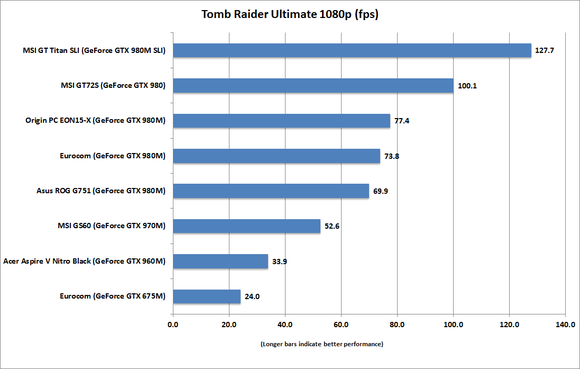 Here's how the MSI GT72S Dragon stacks up in a real game. Click on image to enlarge. Credit: Gordon Mah Ung
I also threw Middle-earth: Shadows of Mordor with the 4K texture pack and Ultra-quality setting enabled. I have a somewhat smaller set of comparison numbers here, but the GeForce GTX 980 easily schools the GeForce GTX 980M chips.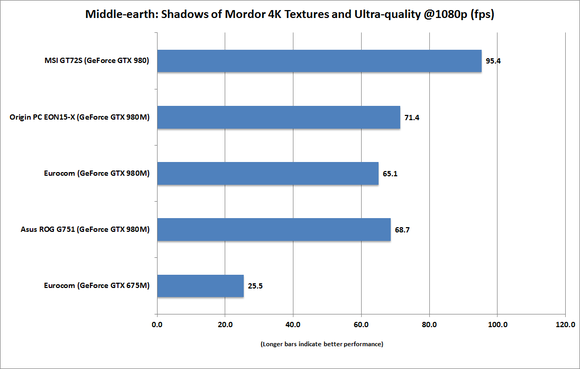 The MSI GT72S Dragon performance in Middle-earth: Shadows of Mordor is also top notch. Click on image to enlarge. Credit: Gordon Mah Ung
CPU Performance
We all know gaming laptops do more than play. People who buy these honking big laptops also tend to edit video, photos, or do other content creation-oriented tasks.
The first test is PCMark 8 Home Conventional. It's a synthetic benchmark designed to measure typical usage in a "home" environment and includes browsing, video editing, photo editing, word processing and light-duty gaming. It's a fairly easy test that any machine can do, but it favors the higher clock speeds like the desktop chips in our zero-point testbed and the Origin PC EON15-X.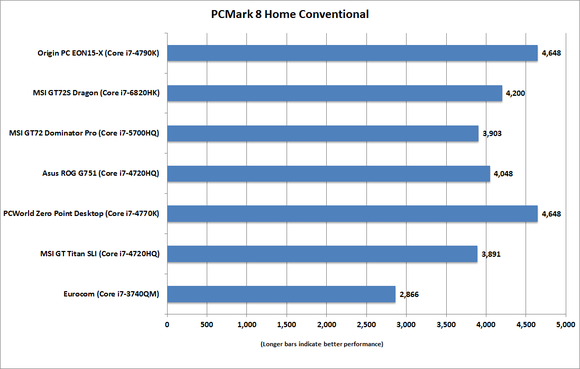 PCMark 8 Home measures low ambition gaming and general CPU performance in typical home (yawn) tasks. Click on image to enlarge. Credit: Gordon Mah Ung
A more strenuous workload is our Handbrake encode test. We take a 30GB, high bit-rate 1080P MKV file and encode it using the Android Tablet preset. Handbrake is heavily multi-threaded: The more cores, the higher the performance. On the GT72S Dragon, I ran the test two ways. The first was at the stock speeds for the chip, and the second was with the laptop's CPU overclocked to 4GHz. The results are impressive.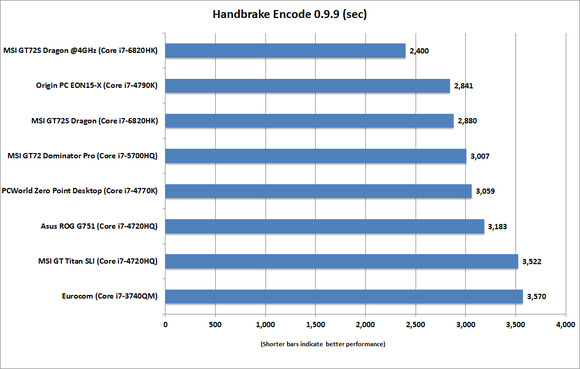 The default clocks of the GT72S Dragon's Skylake chip is a tad slow but overclocked to 4GHz, it'll school even a desktop chip. Click on image to enlarge. Credit: Gordon Mah Ung
If you look at the chart above, you can see the Skylake chip turns in a better performance than the Core i7-4770K in our Zero Point desktop box. However, it loses to the Origin PC EON15-X with its higher-clocked Devil's Canyon chip. With the 4GHz overclock on the Skylake chip, we see a large performance increase over the other quad-core CPUs. Note that I didn't vet the 4GHz overclock for long term stability, to just to see how fast it would run. My guess is it's an attainable overclock, as it was fully stable during multiple 40 minute encode runs.
Previous Page 1 2 3 4 5 Next Page