MSI GT72S Dragon review: What it takes to get a laptop to game like a desktop
A full-on GeForce GTX 980 card and an overclockable Skylake chip are a good start..
Overclocking-ready CPU with all the trimmings
Inside the shell of the GT72S Dragon you'll find an Intel quad-core Skylake Core i7-6820HK chip. The CPU is unlocked, but the factory default is 2.7GHz to 3.6GHz on Turbo-Boost.
Rather than the fancy whiz-bang UI that desktop motherboards get, the GT72S Dragon's BIOS looks like it was lifted from a motherboard from 2001. There's no mouse control, no print screen option and nothing to walk you through your overclocking attempts. It's bare-bones. I'd expect this to improve if overclocking of laptops actually turns into a thing.
For my tests I dialed up a quick overclock to 4GHz from its stock speed of 3.2GHz. Even with the 4GHz overclock, the CPU fan speeds didn't get obtrusive. Only under a stress test do the fans get up and go. Overall, I'd say fan noise on the GT72S was kept to a minimum.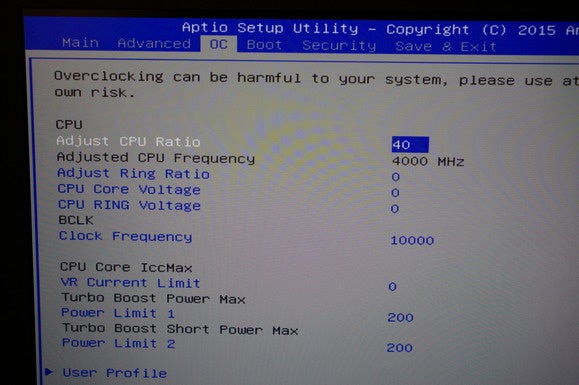 The BIOS in the MSI GT72S Dragon pales in comparison to a good motherboard's, but it's at least functional and let us easily dial up a 4GHz overclock on the Skylake chip. Credit: Gordon Mah Ung
Because it's Skylake, MSI pairs the CPU up with an excessive amount of DDR4/2133 RAM using four DIMM slots. By excessive I mean few people really need 32GB—but hey, why not go all in right?
G-Sync display for smoother gaming
The GT72S Dragon features a G-sync certified panel. The problem, of course, is that with the 17.3-inch 1920x1080 IPS screen and the GeForce GTX 980, it's going to be really hard to get frame rates to drop to the 30 and 40 fps range where G-sync is the most effective.
There are benefits: For example, the G-sync panel is rated for 75Hz, so you'll get a slightly smoother feel in gaming and even scrolling or moving windows around. It's not quite to the level of a 120Hz or 144Hz panel, but it's better than 60Hz.
G-sync also brings anti-ghosting and even works in a window, but the truth is it's hard to drag down a GeForce GTX 980 even at 1080p gaming.
GPU Performance
None of the fancy Dragon stuff matters if the laptop doesn't deliver, and it does. I ran 3DMark Firestrike Extreme on the GT72S Dragon and compared it to some beefy laptops plus our PCWorld Zero point desktop system with a GeForce GTX 980. The result? The Dragon is actually slightly faster than our desktop system.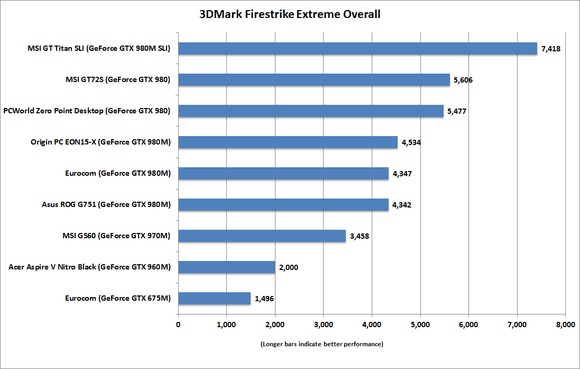 Does the laptop GeForce GTX 980 stackup to a desktop GeForce GTX 980? Yup. Click on image to enlarge. Credit: Gordon Mah Ung
Previous Page 1 2 3 4 5 Next Page