Moto Z Force review: Motorola's beefier Z smartphone is better without its mods
It's too bad Motorola's better-performing flagship phone takes a back seat to the svelte Moto Z. The Z Force is worth the higher price.
I also want to caution that, like its sibling, it does have a tendency to get rather warm if it's plugged in and you're using a prcoessor-intensive app. The heat is especially noticeable around the 16 recessed metal pins on the back, and I even yelped a couple of times because of the surprising heat output. Using the included Style Shell should help curb those burns.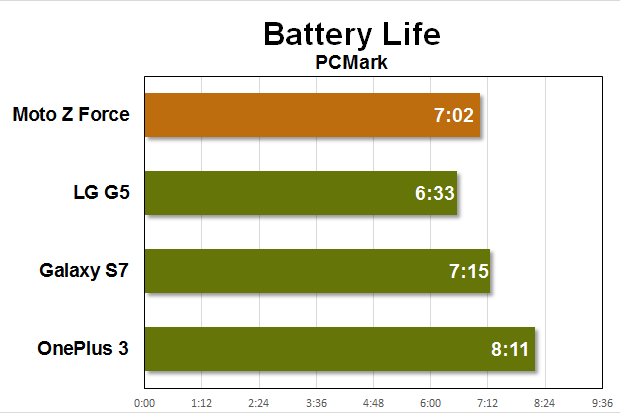 The Z Force's 3,500 mAh battery is plenty capable, though the OnePlus 3 outranked it with its smaller battery.
Battery life for the Moto Z Force is pretty good, though a bit lower than we'd expect with a 3500mAh battery pack. I left the phone on standby for about two days with all my notifications blasting through and it was still holding on. It lasted seven hours and two minutes in our PCMark battery rundown test, too, though it's worth noting that's an hour less than what the Galaxy S7 Edge managed with a similarly-sized 3600 mAh battery pack.
Camera: The best Motorola has to offer
The Moto Z Force is, by far, the best Motorola camera phone I've ever used. Unlike the Moto Z and its 13-megapixel camera, the Z Force utilizes a 21-megapixel camera with a bright f/1.8 aperture, optical image stabilization, laser autofocus, and phase detection autofocus, which helps keep subjects in focus. It also has a 5-megapixel front-facing camera.
I loved the vibrancy of the photos taken with the Z Force.
The Z Force produced photos with colors that pop.
The contast and saturation are almost as good as what the Galaxy S7 is capable of producing.
I was particularly impressed with the Moto Z Force's performance in low light, even though it was difficult to lock on a subject at times. However, I figured out that pressing-and-holding on the area where you want the camera to focus will produce a clear-looking photo even in the dimmest of light.
In our lab test, the Z Force performed well with its f/1.8 aperture, though the LG G5 and Galaxy S7 were better at overall lighting.
I found that tapping on a subject to lock in focus and exposure helped produce clearer photos in low light situations.
Previous Page 1 2 3 4 5 Next Page