Moto Z Force review: Motorola's beefier Z smartphone is better without its mods
It's too bad Motorola's better-performing flagship phone takes a back seat to the svelte Moto Z. The Z Force is worth the higher price.

Florence Ion: The Moto Z' Force's AMOLED display is great, though it's a bit dimmer than its sibling's.
Like the baseline Moto Z, the Moto Z Force has a 5.5-inch QuadHD AMOLED display. Weirdly, the display brightness is a bit dimmer than the Moto Z—probably the result of having that ShatterShield protective layer on top. Regardless, the display is still bright enough to see outdoors. I should note that my review unit shipped with a bright green dead pixel in the lower left-hand corner of the display. Let's hope the minor defect is limited to my review unit, and customer phones don't suffer similar quality-control issues.
The Z Force uses the same front-facing fingerprint scanner that you'll find on the Moto Z and Moto G4 family. I'll reiterate that I'm not fond of the front-facing scanner, as it doesn't pair with any other function (like, say, a Home button) and also takes away potential screen real estate from the display.

Florence Ion: The new fad in smartphone design: dongle tails!
Lastly, be forewarned that the Moto Z Force doesn't have a 3.5mm headphone jack. So you'll have to come with your own set of Bluetooth headphones, or carry around the included USB Type-C adapter to plug in analog earphones. If you go the Bluetooth route, you'll have to be diligent about keeping your earphones charged, and if you stick with analog earphones, you'll have to keep tabs on the whereabouts of that dongle. Either way, it's annoying.
Performance: Like all the other flagships
Like its direct competition, the Moto Z Force runs on a Snapdragon 820 processor with 4GB of RAM. In our benchmarks, it ranked alongside all the latest flagships, including the Galaxy S7 and OnePlus 3. In fact, it managed to outpace both of those devices in PCMark, which tests for general smartphone usage like browsing the web and copying and pasting text between applications.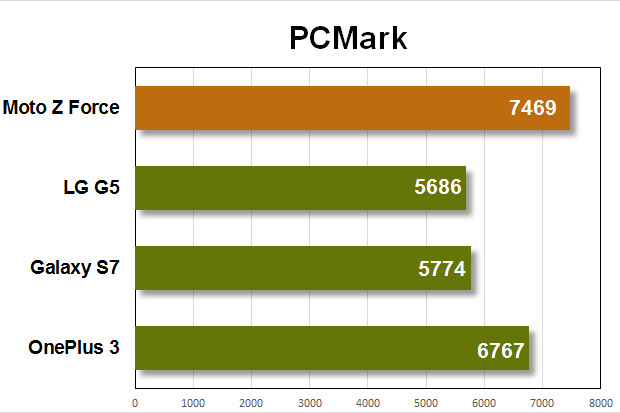 Like its sibling, the Moto Z Force outpaced other flagships in PCMark.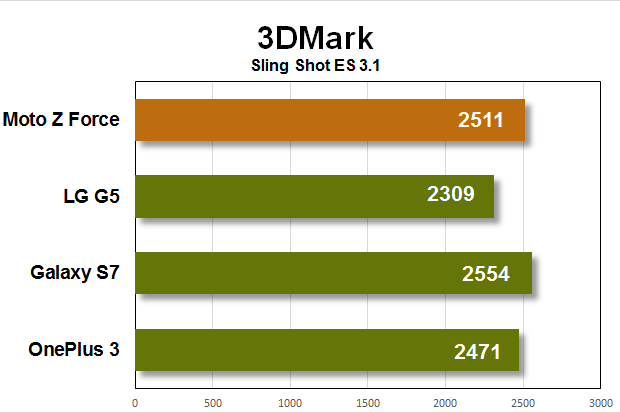 Unfortunately, the Z Force offered up inconsistent benchmark results in 3DMark. This was the median score of the many tests I ran.
The Moto Z offered up some inconsistent results in a few of our benchmark tests, and unfortunately the Z Force performed along the same lines. I can't tell if it's GPU throttling or the fact that the phone isn't particularly good at dispersing heat.
Previous Page 1 2 3 4 5 Next Page