Misfit Ray review: This fitness band looks like a bracelet, but trades function for style
Misfit's focus on fashion hobbles the Ray, which relies on vibration and LED lights to communicate with you.
I could tell the Misfit Ray was gonna be trouble when I couldn't figure out how to turn it on.
Misfit is taking slim and sleek fitness trackers to the next level with the newest addition the lineup, the $100 Ray. The band resembles a futuristic androgynous bracelet and doesn't have a screen, which is why I couldn't figure out exactly how this activity tracker that doesn't look like an activity tracker was going to track my activity. The smart part of this bracelet is an aluminum cylinder, which comes in black or rose gold. It's also detachable from its band, as I soon learned.
After trying in vain to pair the Bluetooth Ray to my phone, I realized I was missing something: batteries. Three tiny button cell batteries were buried in the Ray's packaging, when I stupidly thought they were already placed inside the device. Batteries in hand, I stared at the band. How do I get these little coins inside this little bracelet?
One video tutorial later, I was in business. The Ray was flashing its joyful, multicolored LED light at me, and the thought of using this bracelet to track my activity and sleep for eight months without having to charge it—because the last thing I need is another proprietary charger—should have put me in a cheerful mood.
But the irritations continued. I'll get to those in a minute.

The Misfit Ray looks like a bracelet, so it doesn't look out of place when worn with other jewelry. Credit: Misfit
99 problems but a screen ain't one
Once it's powered on, the Ray is easy enough to personalize. In the Misfit iOS app, you set activity and sleep goals and toggle on vibration alerts for calls, texts, alarms, and move reminders. All the vibrations are the same, but the LED lighting on the Ray changes to signal what it's vibrating for. The Ray is designed to look like an unobtrusive piece of jewelry, so it doesn't have a display. These lights are how the device communicates with you when you're not staring at the Misfit app. So how do you know which color corresponds to which alert? Well, finding that out as pretty easy, but remembering it—not so much. Every time my wrist vibrated, I checked my phone to see if it was a text or call. If it wasn't, I guessed that it was a move reminder. Eventually I just wanted to shut off notifications altogether.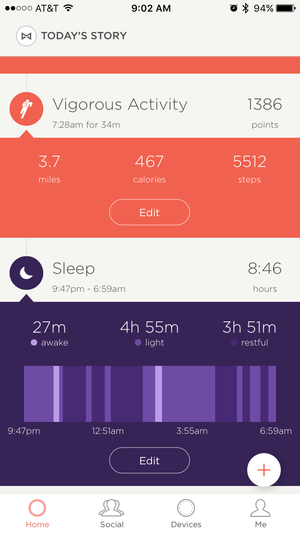 The activity and sleep data is all wrong.
As far as fitness apps go, Misfit's is one of the most beautifully designed that I've used. Your data is synced and laid out as a daily story that you can manually add information that the device doesn't track, like weight and food intake. Like a journal, you can glance back at data from prior weeks to see if you've been meeting your goals.