Microsoft's Office Mobile for iPhone app will disappoint most users
Good news: Microsoft finally released an iPhone app for Office. Bad news: It's not the kind of app we were hoping for.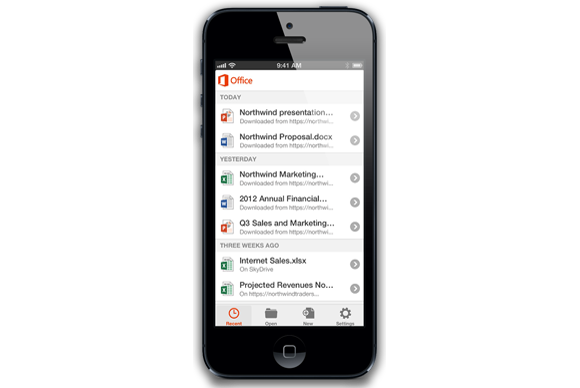 A few weeks back I took a first look at Microsoft's new iOS offering, Office Mobile for Office 365, aka Office Mobile for iPhone. My initial conclusion remains the same now as it was then: Office for iPhone may be a nice addition to your existing Office workflow, but the app strikes me as unnecessary, not particularly good, and--considering that it requires a $100-plus subscription to Office 365--rather expensive for an app that offers little in the way of tangible value.
Office Mobile for iPhone is an iPhone-only app that offers access to the three major features of Microsoft Office: Word, Excel, and PowerPoint. Office for iPhone's Word and Excel apps allow you to create and edit their related documents, PowerPoint exists mostly as a tool for viewing existing PowerPoint documents. Which is to say, you can use the PowerPoint app to make minor text changes to your presentations and in a pinch, you can use it as a presentation tool.
Using the app requires access to Microsoft's SkyDrive, a Dropbox-like service that synchronizes files on all your devices. SkyDrive is one piece of Microsoft's Office 365 service and costs from $100 to $120 annually, depending on whether you want to pay once annually or month-to-month. Office 365 comes with a desktop copy of the lastest version of Office and offers access to online versions of Microsoft's Office Suite. It's a great deal if you're interested in all the Office Suite has to offer, but it may be more than you bargained for if you only want to use Office Mobile to edit or view files you already have or that are being emailed to you by others.
Word
As a word processing tool, Word in Office Mobile is, at best, an uneven experience and at worst, an exercise in frustration. Word does not behave like any iOS app you've ever used to edit text. Documents in Word have two modes: A preview mode where you select and copy text and create comments in your documents. There's also an editing mode where you can make changes to your document. Selecting text differs depending on which mode you're in and neither mode uses iOS's normal text selection tool. In preview mode, tapping and holding a word selects it, after which you can use the selection tool to select more text. In editing mode double tapping a word selects it, and once text is selected you can change fonts, colors, and paragraph formatting.
It's unclear why Microsoft decided to diverge from normal iOS editing methods, but the difference was significant enough that I could not discover how to select text for editing just by using the app. Once I did figure it out, I was able to make changes to the text without a problem. Although I did notice that it was very difficult to grab text selection handles that were near the left edge of the screen.