Microsoft's new Surface Dock is a smaller, yet still-potent docking solution
Say goodbye to the massive Surface Pro 3 Docking Station and hello to the more svelte Surface Dock for Surface Book and Surface Pro 4.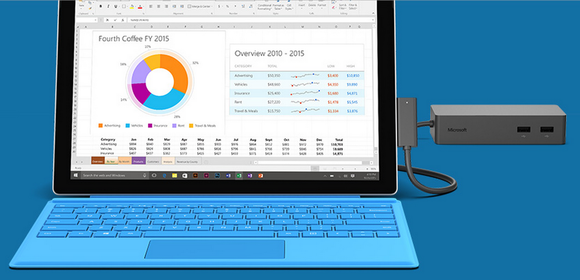 The new Surface Pro 4 shed ounces and thickness alike in its evolution from the Surface Pro 3, but it wasn't the only Microsoft hardware to slim down over the past year. A new Microsoft Surface Dock announced for the Surface hardware on Tuesday assumes the form of an unassuming brick—and it's downright tiny compared to the gargantuan design of previous Surface-as-desktop options, which required you to slide your tablet into a large docking station.
The new Surface Dock connects to the Surface Pro 3, Surface Pro 4, and Surface Book laptop via the devices' magnetic connector. It's designed to sit unobtrusively behind your device, rather than holding it directly. That allows the new Surface Dock to easily support both the current and previous generation Surface Pro tablets (despite the thinner dimensions of the Surface Pro 4), as well as Microsoft's new laptop.
The Surface Dock measures 5.12-by-2.36-by1.18-inches and weighs a mere 1.21 lbs., whereas the older Surface Pro 3 docking station (which is still available, but apparently not compatible with the SP4) was far more immobile with its hulking 12.24-by-5.51-by-3.74-inches frame.

The new Microsoft Surface Dock.
Despite the shrinkage, the new Surface Dock offers an arguably better port selection than its predecessor, with four USB ports, a gigabit ethernet port, an audio-out connection, and a pair of mini-DisplayPorts capable of driving 4K-resolution displays. It's only lacking the larger SP3 Docking Station's security lock slot, but makes up for it by boosting all of the USB ports to the speedier USB 3.0—the older SP3 Docking Station had two USB 2.0 and two USB 3.0 connections.
All those signals pass from the tablet to the dock via a single Surface Connect cable. The dock requires its own power supply, naturally, and your Surface Pro or Surface Book will charge while connected, as you'd expect from a docking station.
The new Surface Dock seems like a capable, more compact docking solution than the older model, though some users may prefer the Surface Pro 3's more integrated aesthetic over the new Surface Dock's "brick with a bunch of wires" approach.
If you're interested, you can preorder the $200 Surface Dock now from Microsoft's online store. Microsoft also showed a similar dock for Windows 10 Phones in action during its Lumia 950 reveal on Tuesday, but didn't offer any additional information, and it's not in listed in the Microsoft Store yet.