Microsoft Surface Pro 4 review: It's faster, it's better, and it has more competition
This time around, what sells the Surface Pro 4 is on the inside.
Can't decide? Then consider this: The eTauro dock we reviewed earlier is cheaper, lighter, and nearly as effective as the $200 Surface Dock, though it lacks an ethernet jack.
I'm disappointed to see that one Surface bug hasn't disappeared: the tendency of the SP4 to suddenly lose the cursor, or for the trackpad and keyboard to stop working. This occasionally happens, and disconnecting and reconnecting the keyboard usually solves the problem. Occasionally, however, it requires a reboot.
What to buy? You can't go wrong with Surface Pro 4
So far we've considered the Surface Pro 4 in a vacuum of sorts, compared to the Surface Pro 3. For it part, Microsoft took pains to compare the SP4 and Surface Book to Apple hardware like the MacBook Pro and iPad. I reject that comparison. If you want an iPad, buy an iPad. Windows, iOS and MacOS are different animals, and should be treated as such.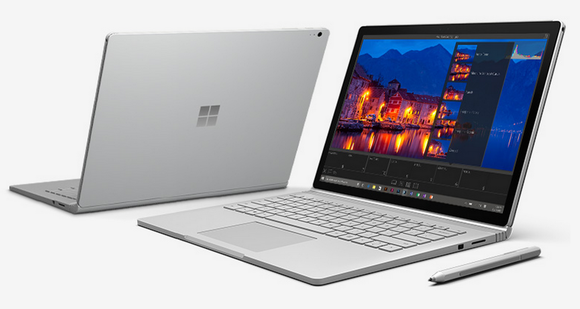 Want to know how the Surface Pro 4 compares to the Surface Book? Read our review.
A better comparison would be between the SP4 and the emerging class of Surface clones, like the Lenovo Miix 700 and the Vaio Canvas. Alas, we don't have that hardware in for review yet.
And then there's the other question: Should you buy the Surface Pro 4, or the Book? Microsoft makes the question a simple one. Compared to a Core i5-based SP4, you can pay an additional $400 more for what the Book offers: four more hours of battery life as well as a laptop-like experience. The difference between a Core i7-based SP4 and a comparable Book with a discrete graphics chip, meanwhile, is about $600. Yes, I covet the additional battery life of the Book, if only because I'm paranoid about running out of battery when I need it most. But oh, that price!
Any review score is a snapshot in time, but that's particularly true for the Surface Pro 4. It's clearly a much better tablet than its predecessor, because the compelling performance increase overcomes the shortcomings of the Pen and the mediocre battery life. But will it prove to be the best-in-class of this new category of Surface clones? We don't know yet. But if the up-and-comers proved to be competitive with the Surface Pro 4, that'd actually be great news for the Windows ecosystem