Microsoft Surface Pro 4 review: It's faster, it's better, and it has more competition
This time around, what sells the Surface Pro 4 is on the inside.
One more note on productivity: the Surface Pro 4 boasts an 8MP autofocusing rear camera, up from a 5MP camera on the SP3. (Both have a 5MP front-facing camera as well.) I often evangelize the use of OneNote to take notes, and I envision the new Surface Pro 4's being used to record a video record of an academic lecture. Think about it: If you're perched in a lecture hall, you're tilting your tablet down anyway. That camera's already in position to record a video of the lecture to accompany your notes!
The front-facing camera doubles as a depth camera enabling Windows Hello, Microsoft's biometric login solution. But Microsoft won't enable it until sometime soon after the launch, when it will push an update that will turn it on. Microsoft will also ship a $160 Type Cover with an integrated fingerprint reader by Oct. 26.
The new Dock poses a convenience conundrum
There was something predatory in the way in which the mandibles of the original Surface docks clamped the tablet, holding it fast. The new Dock is far more deferential.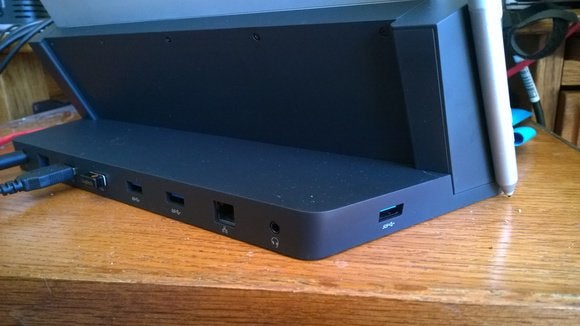 The Death Star: the Surface Pro 3 dock. Credit: Mark Hachman
This time around, what Microsoft calls the Surface Dock is a power brick. And that's fairly close to the truth: Compare the dock's actual power brick to the dock itself—Microsoft carved them out of identical hunks of plastic.
Functionally, however, the dock is an upgrade over the previous docks: There are four USB 3.0 connections, and not one but two miniDisplayPort connections, plus gigabit ethernet and a Kensington lock. (You can still use the tablet's existing USB port, as well.) It's all routed through a sturdier Surface connector, which snakes from the Dock to the tablet via a short length of cable.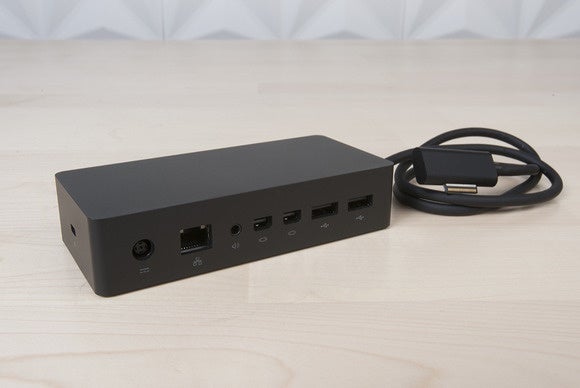 The new Surface Dock is literally the size and shape of its own power brick. Credit: Rob Schultz
The real advantage here is that the new Dock permits the SP4 to recline to any position, while the earlier docks locked it into a single position. I like that. It doesn't seem to work with the SP3, though – I was able to power the SP3 via the dock, but when I attached a mouse and keyboard, they didn't work.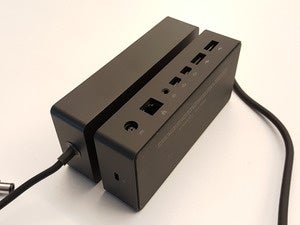 The new Surface Dock (right) sits next to its power brick (left). Credit: Mark Hachman
About the only concern I have with this is that the Dock is small enough to fit in a backpack or carry-on—which means you have a decision to make. Do you tote along the combined 2.5 pounds of the Dock and its power brick, or leave it at home? Remember, that's significantly more than the 1.73 pounds the tablet itself weighs. (The Type Cover is about 0.63 pounds, for a total weight of 2.36 pounds.)
Previous Page 1 2 3 4 5 6 7 Next Page