Microsoft Surface Pro 4 review: It's faster, it's better, and it has more competition
This time around, what sells the Surface Pro 4 is on the inside.
The Surface Pro 4 is dramatically faster in disk speed, as well. Both of our Surface Pro 3 and Surface Pro 4 test machines include 256GB SSDs. The Toshiba device in the SP4 reported a CrystalMark 5 read score of 1578MB/s and a write score of 311MB/s; that's roughly three times the read speed of the Surface Pro 3's drive (552MB/s read, 136MB/s write).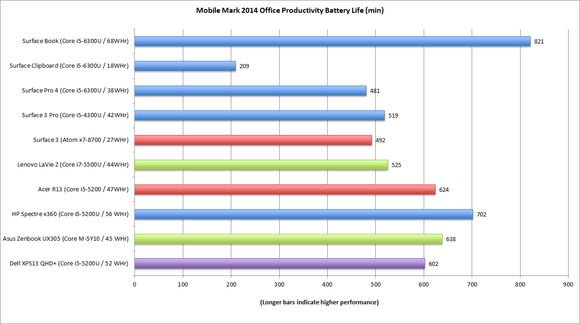 Click on image to enlarge. Credit: Gordon Mah Ung
The disappointment here is battery life: Using the standard MobileMark 2014 test that measures normal Office use, we recorded about 481 minutes (8 hours, 1 minute), versus 519 minutes with the SP3. We haven't tested the Core m3-based Surface Pro 4, but it should offer longer battery life—and lesser performance, of course.
A refined Type Cover, but a step back for Surface Pen
I've used the Surface Pro 3 for eighteen months or so, mostly as a daily driver, so my fingers have grown quite used to the Surface Pro 3's Type Cover. While it doesn't quite boast the rigidity of a laptop's keyboard, I'd say the Surface Pro 3's Type Cover comes pretty close.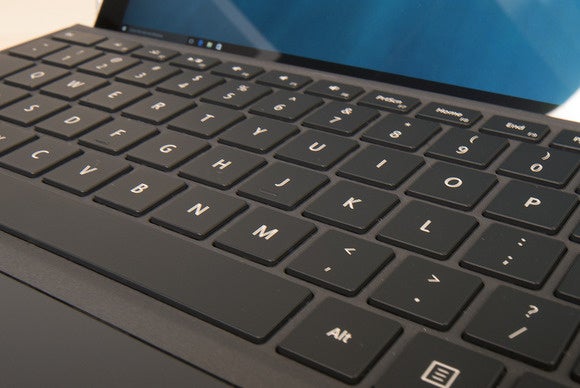 The Surface Pro 4's Type Cover features backlit keys that are spaced out a bit. Credit: Rob Schultz
What's most notable about the Surface Pro 4's keyboard is that the keys are smaller—about 16 mm square, as opposed to 18 mm for the SP3—but spaced more widely, about 3 mm apart, whereas the SP3's keys almost bump up against one another. All told, the SP4's key pitch is a more spacious 19 mm, with 1.3 mm of travel.
Although the SP4 keys feel slightly stiffer, I was able to type comfortably. Based on the light that leaks from behind the SP4 Type Cover's keys, I suspect I'll have to be careful about dropping crumbs during a working lunch. What's interesting, though, is that the SP4's spacebar seems to be almost sealed, while the other keys have more noticeable gaps.
You can use your older SP3 Type Cover with the new Surface Pro 4, saving yourself $130.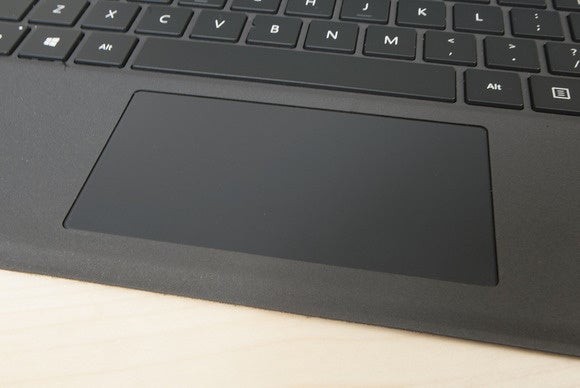 The Microsoft Surface Pro 4 also boasts a larger trackpad, but solid palm rejection means you don't have to worry about where you place your hands. Credit: Rob Schultz
The trackpad is wider and smoother, about 30 percent larger than the SP3's. And it's smooth—your finger easily glides right over it, like a gaming mousepad.
Previous Page 1 2 3 4 5 6 7 Next Page