Microsoft Surface Pro 4 review: It's faster, it's better, and it has more competition
This time around, what sells the Surface Pro 4 is on the inside.
Packed with power
Without a doubt, the primary reason to buy a Surface Pro 4 is its dramatic boost in performance relative to the Surface Pro 3.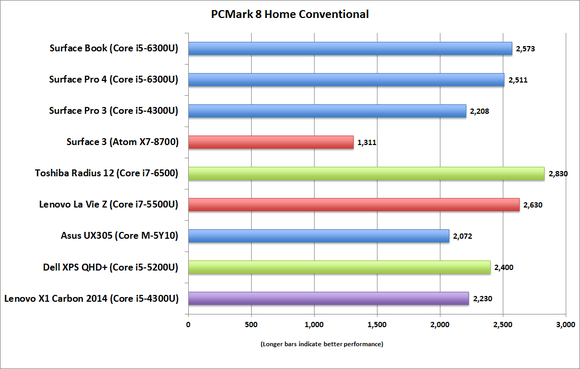 Click on image to enlarge. Credit: Gordon Mah Ung
You won't see the benefit in mainstream productivity, as evidenced by the mere 6-percent uptick in the PCMark Home Conventional test at native resolutions, or the slight 3-percent drop in PCMark Work Conventional performance. Our Surface Pro 3 contains a 1.9GHz Core i5-4300 Haswell chip and 8GB of RAM; the Surface Pro 4 includes a 2.4GHz Core i5-6300U Skylake chip and 8GB of RAM. Remember, the SP4 is also pushing a few more pixels.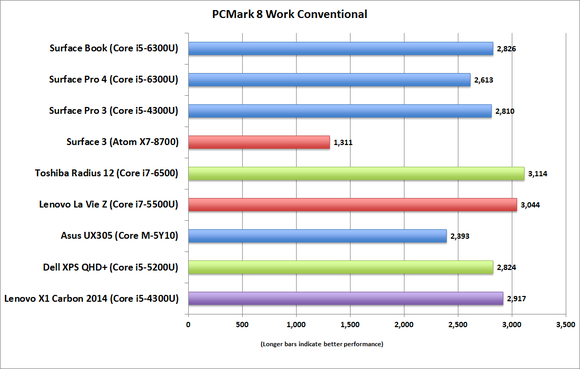 Click on image to enlarge. Credit: Gordon Mah Ung
But what we did measure was a 32-percent increase in the 3Dmark Sky Diver benchmark, and a 36-percent boost in the Cloud Gate benchmark. When we forced the Surface Pro 3 to throttle itself, the performance gap leapt upward to the 81 percent we cited earlier.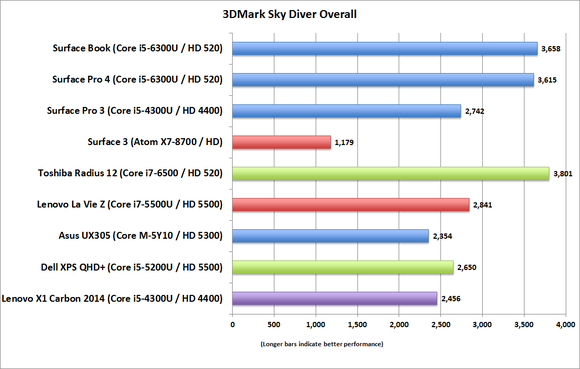 Click on image to enlarge. Credit: Gordon Mah Ung
In part, this is due to improved liquid cooling system in the Surface Pro 4. With the SP3, heat collected in a spot on the rear of the machine, causing the fan to rev up and the SP3 to limit its CPU speed in an attempt to prevent overheating. New cooling pipes in the Surface Pro 4 route heat across most of the rear panel. This causes the rear panel to warm as a whole, but prevents the need to run the fan.
If the Surface Pro 4 suffered from the same thermal issues as the SP3, you'd see it in this prolonged Handbrake media encoding test—and you don't.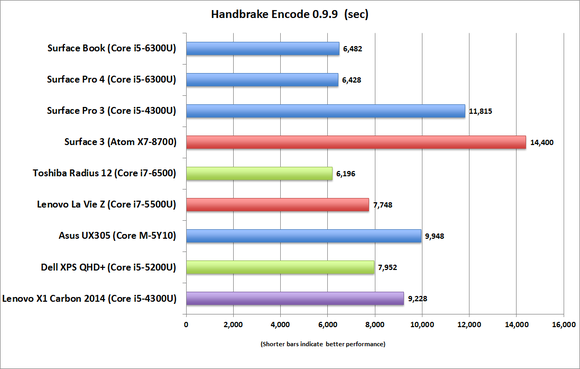 Click on image to enlarge. Credit: Gordon Mah Ung
What that means, of course, is that you won't notice any difference in how your Surface runs Office. But any applications that make heavy use of the CPU as well as the integrated graphics will demonstrate improved performance, from light gaming to simple Web browsing, 3D applications and more.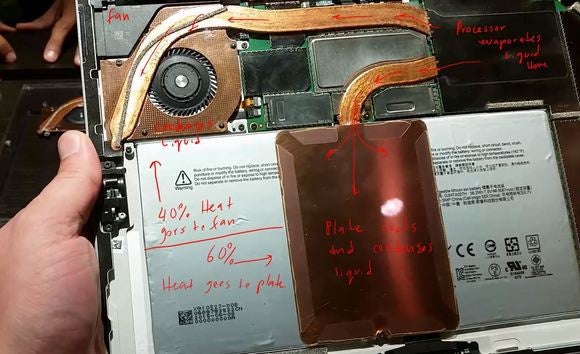 Here's how the Surface Pro 4 dissipates heat under the hood. Credit: Sean Ong
And yes, you can play games: I eked out 34 frames per second on Crysis 2 (1280x720, High settings, DX11 off); 30 frames per second on Dishonored (1600x1200), but only 25 frames per second on Batman: Arkham Origins (1024x768, all options off). If you're the type of person who doesn't mind playing older games on the cheap, the Surface Pro 4 suffices.
Previous Page 1 2 3 4 5 6 7 Next Page