Microsoft Surface Pro 4 review: It's faster, it's better, and it has more competition
This time around, what sells the Surface Pro 4 is on the inside.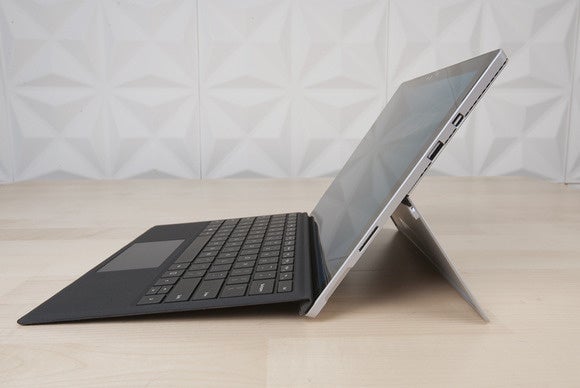 The Surface Pro 4's kickstand is easier to swing out, but otherwise remains the same. Credit: Rob Schultz
Otherwise, the Surface Pro 4 should feel comfortably familiar. You'll still need to find the power button (top left, next to the volume rocker, like the Surface 3) and there's the standard single USB 3.0 port, miniDisplayPort connector, and microSD card reader. The Surface Pro 4 integrates 802.11ac Wi-Fi, same as its predecessor, as well as Bluetooth 4.0.
The slightly wider form factor means that the SP4 won't work with the Surface Pro 3's dock, but the charger appears to be identical. (Note while the Surface Pro 4 connector is identical to the Surface Pro 3's, the Dock's Surface connector is chunkier.)
The kickstand remains almost the same: On the SP3, it swings out easily about 30 degrees into "stage mode," then more slowly back until it reaches the maximum 150 degrees. On the SP4, there's just a fluid range of motion from 0 to 150 degrees. That's not necessarily an advantage; the stiffer SP3 hinge holds the tablet solidly in place, while you may nudge the SP4 out of position if you're constantly jabbing at the screen. Still, it's easier to get the tablet angled to where you want it. Both tablets feel about the same in your lap.

The Surface Pro 4 (left) is the latest in a long line of Surface tablets. Credit: Gordon Mah Ung
Welcome to the world of Windows 10
Windows 10 may have been officially released months ago, but the Surface Pro 4 is one of the first machines to include it from the get-go.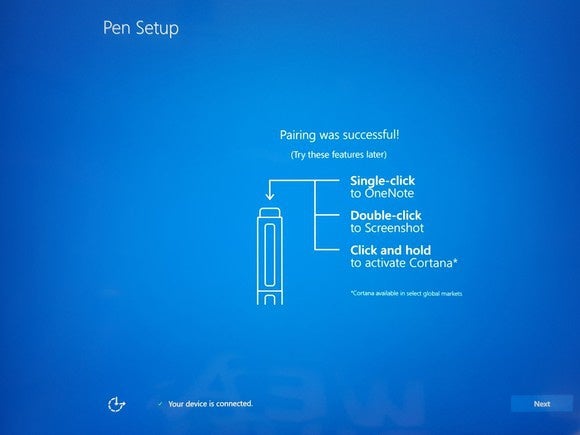 The Surface Pro 4 setup includes a Pen walkthrough. Credit: Mark Hachman
Both the Surface Pro 4 and the Book feature a new set of Surface-specific setup screens that serve as a useful introduction to two new features: Microsoft's digital assistant, Cortana, as well as the new Surface Pen (which we'll discuss more later). This accomplishes two things: first, it ensures you'll hit the ground running. And by waiving (or not) all the privacy concerns associated with Cortana before you actually use it, you slide gently into Microsoft's world.
And it's a pretty nice world.
The inclusion of Windows 10 means that the Surface Pro 4 doesn't need the dedicated Windows hardware button, and can instead use the soft Windows button on the screen that launches the Start menu.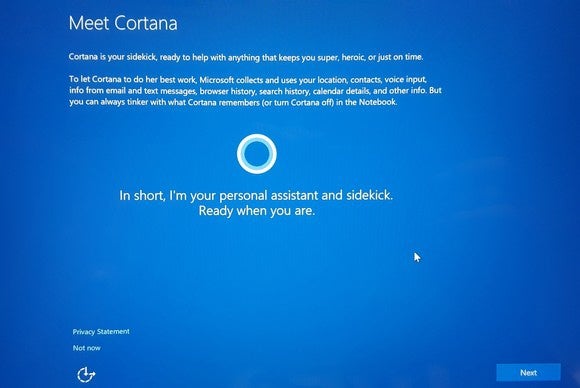 You're hustled through the Cortana privacy agreement, too. Click on image to enlarge. Credit:Mark Hachman
Previous Page 1 2 3 4 5 6 7 Next Page