Microsoft says a Surface that survives Johnny Manziel could never have failed the Pats
If there were any justice in the world, Surfacegate would be the entire plotline of the new X-Files.
Of course, the only time we've seen Surface tablets being used on the sidelines is when they're being rammed into Johnny Football's head or thrown down in disgust by Aaron Rodgers.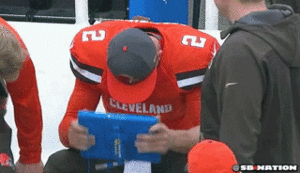 "These devices were built to endure just about anything, even Johnny Manziel's head," Mehdi notes. (It's nice to see that, in the end, Manziel didn't turn over the Surface like he did the football.)
Well, at least they're not still being called iPads, right?
Full disclosure: The author prefers to watch college football and specifically Notre Dame, which is basically the New England Patriots anyway.