Microsoft charges into laptop market with Surface Book
Notebook-that-replaces-a-tablet starts at US$1,499, goes on sale Oct. 26.
Steven Baker, an analyst with the NPD Group, was also piqued, but argued that that wasn't surprising, considering the price points. "It's really nice when you can focus on building a premium product at a premium price," Baker said after the Microsoft event concluded, referring to the Book's positioning in a category where corners did not have to be cut. "It's well-designed and engineered."
Ryan Reith of IDC got his look at the Surface Book last week on Microsoft's Redmond, Wash. campus, and echoed Moorhead and Baker. "It's expensive and very nice looking," Reith said today. "It's a big machine, and definitely a laptop."
But he had reservations. "The hinge is unlike anything else I've seen," Reith added. "It doesn't really close all the way. It's like a book that's had three chapters cut out and the binding doesn't touch. They put a lot into that hinge, but it makes the Book look a little funky."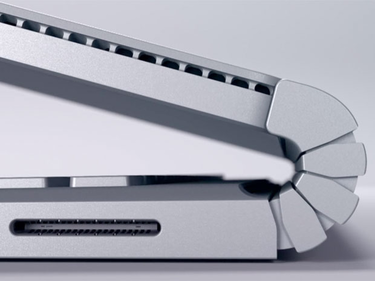 The special hinge on the Surface Book can perform all kinds of interesting tricks.
Reith admitted that may be a minor detail to some, or even many, but he thought it important, if only because of the constant comparisons Panay drew between the Surface Book and Apple's top-of-the-line MacBook Pro, a two-screen-size notebook set that starts at $1,299 for a model with an Intel Core i5 (although not a CPU out of the Skylake collection), 128GB of storage, a 13.3-in. high-res display and 8GB of RAM in a 3.5-lbs. package.
"When something [like the Surface Book] looks like nothing in the industry, you take notice of the details," said Reith. "The MacBook Pro is so sleek and closes up so snuggly that the Book's hinge stood out to me. I found it a mixed bag."
While a rumor or two had floated before today that Microsoft might unveil a larger-sized Surface Pro tablet, the Book was a well-kept secret that caught virtually every analyst by surprise. "It threw me for a loop," admitted Reith.
"Microsoft is taking a unique angle here," said Wes Miller of Directions on Microsoft, a research firm that follows only Microsoft. Calling the Book, a "laptop-first" device -- unlike the Surface Pro, which he considered, contrary to Microsoft's marketing, as really a tablet-first design -- Miller tied the new notebook to Microsoft's similar philosophy for Windows 10.
"Best of both worlds," said Miller, reflecting on not only the tablet-notebook conundrum, but also on Windows 10's strategy to be a first-rate blend of touch and traditional mouse-and-keyboard operation and user interfaces (UIs).
"Microsoft's trying not to compromise" with the Surface Book, said Miller. And in most ways, it succeeded.