Microsoft charges into laptop market with Surface Book
Notebook-that-replaces-a-tablet starts at US$1,499, goes on sale Oct. 26.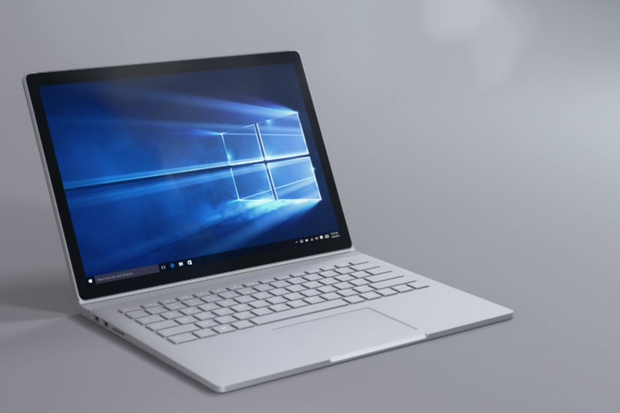 Microsoft yesterday introduced its first legitimate laptop, the Surface Book, a keyboard-equipped premium-priced notebook that can gymnastically twist into a slate or snap apart to serve as a tablet.
"What if you wanted a Surface, but you wanted a laptop Surface? What if we did a laptop?" asked Panos Panay, Microsoft's top executive for its Surface portfolio, during a two-hour presentation in New York that also saw the unveiling of the Surface Pro 4, a pair of flagship Lumia smartphones and device accessories.
A fired-up Panay answered his own question. "We made the ultimate laptop. We made Surface Book."
The Surface Book may be a sibling to the existing Surface Pro line, but the crucial difference is that the former is more a notebook-that-replaces-a-tablet than the latter, which for the last three years has worked from the other end as a tablet-that-replaces-a-notebook.
Weighing in at 3.5 lbs. as a complete package, the Surface Book boasts a 13.5-in. high-resolution display, a sixth-generation Intel Core i5 or i7 processor -- from the chips code-named "Skylake" -- up to 16GB of RAM, and solid-state storage space ranging from 128GB to 512GB.
Five models are available, with varying amounts of RAM and storage space, different CPUs and for the three upper-end models, a discrete Nvidia GeForce GPU (graphics processor unit). The line starts at $1,499 for a Book with 128GB of storage, 8GB of memory and a Core i5 processor, then climbs to the top-of-the-line $2,699 device with an Intel Core i7 processor, 16GB of memory, 512GB of storage and the Nvidia GPU.
Between those bookends, the Surface Book costs $1,899 (two separate models) or $2,099.
Although the Book's keyboard is included with the purchase -- unlike its Surface Pro 4 sibling and earlier devices in the Surface collection -- it does detach, a reveal that Panay held until almost the end of his time on stage. Minus the keyboard, the device weighs 1.6 lbs., or slightly less than the Surface Pro 4 sans its optional keyboard.
Analysts at the briefing were impressed. "What they did was a really good follow-up to the Surface Pro 3," said Patrick Moorhead, principal analyst at Moor Insights & Strategy, referring to the tablet-becomes-a-notebook Surface Pro 4. "Then they one-upped it."
That ante was the Surface Book, which remained firmly in the slice of the market in which Microsoft has long said it wants to play. "Although the Surface [Book] is technically a detachable, it's another step in signaling that Microsoft is still not happy with what the OEMs (original equipment manufacturers) are producing," said Moorhead.