Meet watchOS 3, the solution to most of our Apple Watch problems
Apple is solving its biggest Apple Watch issue: super-slow apps.
The Apple Watch's biggest problems are its apps, namely the time it takes for them to load, and the limited features developers are allowed to bake in. Apple is fixing these issues with a major overhaul to watchOS, coming this fall as a free upgrade for all Apple Watch owners.
During the Worldwide Developers Conference keynote on Monday, Apple previewed a slew of new features coming to watchOS 3. Here are the major changes that will breathe new life into your Apple Watch.
First things first: Faster apps
Every Apple Watch owner knows the struggle of launching apps. By the time the app opens, you've given up and turned to your iPhone for help. Apple Watch apps will launch instantly in watchOS 3, and not just Apple's native apps—third-party ones, too. Your favorite apps will be kept in the watch's memory and update automatically in the background, so you always see the most up-to-date information without having to stare at the spinning wheel of death. Apple's technology VP Kevin Lynch said apps will launch seven times faster in watchOS 3 than watchOS 2.
The Apple Watch is also getting its own app switcher, just like in iOS. You can put your most-used apps in a dock and swipe between them. In the dock, you'll see the most recent information at a glance, which is much more useful than the slow-loading Glances view.
Apple is bringing its native Reminders and Find My Friends apps to the Watch so you can view your to-do lists and check them off and see how far away your friends (or, more likely, your family) are from you.
The Apple Watch has supported Apple Pay since day one, but now third-party app developers will be able to integrate Apple Pay as a payment option in their apps, which wasn't available before.
Bringing competition to workouts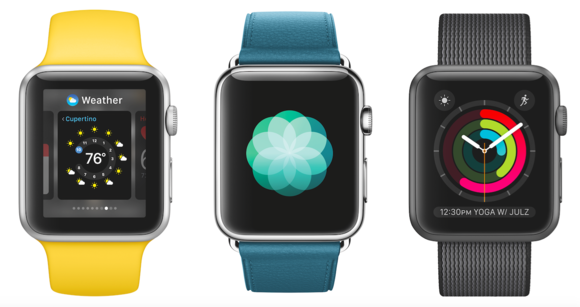 Activity-sharing and a new health app called Breathe are coming in watchOS 3. Credit: Apple
One of the Apple Watch's most-used apps is Activity, which shows you how close you are to reaching your daily fitness goals with those addictive rings. Apple is giving those features a huge upgrade in watchOS 3 with a Fitbit-like feature: competition. The next-gen operating system will put an activity-sharing feature on the watch. How it works: Swipe to the right of your activity rings to see your friends' and family's rings. You can sort the list by step count, workouts, and exercise minutes, or tap on a specific person to see how active they've been that day. You'll be able to send messages directly within the Activity app with new pre-written smart replies geared toward encouraging (or smack-talking) your contacts' activity.