Meet Apple Watch, the new US$350 Apple wearable with a clever new navigation scheme
Apple's new wearable supports mobile Apple Pay payments and a raft of health and exercise features. But its most novel feature may be the "Digital Crown" navigation interface.
In addition to all the built-in goodies, a new WatchKit SDK will enable third-party developers to enrich Apple Watch beyond the standard notifications that already appear in other iOS devices. An American Airlines app will provide you with a richly visual travel itinerary, and let you use iWatch to open your room door at W hotels. A Pinterest app will provide walking directions for pinned locations. A Honeywell app will provide thermostat control on your wrist. And a BMW app will help you find where you parked your car.
It also sounds magical. But now we wait to see how the new Digital Crown simplifies app navigation.
A big, bold audacious swipe at industrial design
Wearable tech is exceedingly personal, and it's almost impossible to deliver a single industrial design that suits everyone. So Apple didn't just double down on design with two different watch sizes (one for boys, one for girls, obviously). It's also going to release three separate luxury tiers, along with six different watch bands. Even cooler: A new strapping mechanism lets you changes bands at will, and there's no ugly charging port on the case. Instead, Apple Watch uses a magnetic charging attachment similar to MagSafe.
The basic Apple Watch (we'll assume this is the $350 model-and, ouch, that's expensive) comes in either standard or black stainless steel. Then there's Apple Watch Sport, which is ruggedized with an anodized aluminum case and strengthened Ion-X glass. This model comes with flashy, colorful bands. Finally, we have the Apple Watch Edition line, which is surely being targeted at all the fashion bloggers who attended the Apple event. It has an 18K gold case in either yellow or rose.
A variety of bands service these models in different combinations. There's a steely Link Bracelet for Donald Trump, a technicolor Sport Band for Shaun White, and an ultra-femme Milanese Loop for Diane Von Furstenberg-who probably feels silly now for aligning with Google Glass.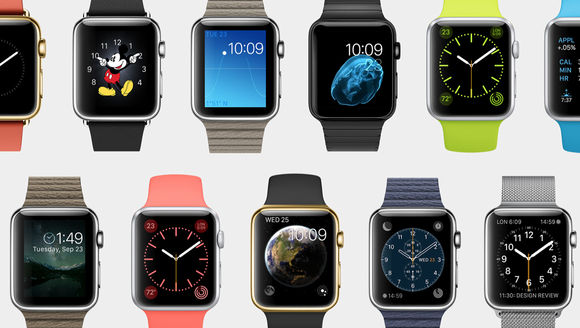 A look and feel and emotion for everyone.
Will all this aesthetic variety be enough to convert mainstream normal people to smartwatches once and for all? Well, the focus on design helps. But Apple hasn't necessarily reinvented the wheel-or even the watch crown-with the features it revealed Tuesday. It appears the Apple Watch is still mainly a wearable for quick personal communication, activity-tracking and smartphone notifications.
Of course, Apple Pay looks great, and could push Apple Watch to mainstream relevance. But this feature and the rest of Apple's tricks will need to be dead-frictionless to use if Apple Watch is to be a winner.
Previous Page 1 2 3