Meet Apple Watch, the new US$350 Apple wearable with a clever new navigation scheme
Apple's new wearable supports mobile Apple Pay payments and a raft of health and exercise features. But its most novel feature may be the "Digital Crown" navigation interface.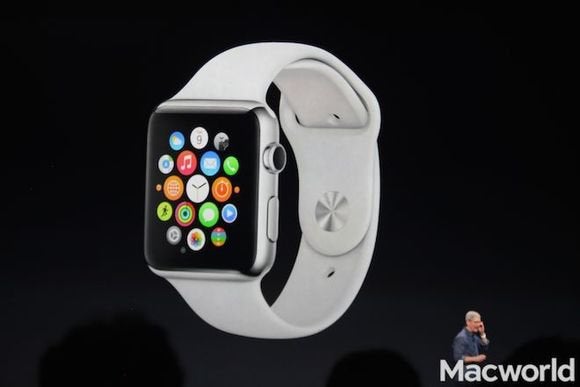 It's called the Apple Watch, it looks like a luxurious synthesis of technology and traditional timepiece craftsmanship, and it uses a "digital crown" to navigate through lists and zoom in on data. Apple finally announced its long-awaited smartwatch on Tuesday, and, boom, just like that, the center of gravity of the shaky wearables market has shifted in a seismic reset.
No, not because the watch looks that revolutionary. It's because this is an Applesmartwatch. And for better or worse, this is the new wearable's most important feature.
The new Apple "this changes everything" device starts at $350, and will be available early next year. But here's the kicker for potential fence sitters: Apple Watch supports the new Apple Pay system, so you can quickly purchase items from retailers ranging from Bloomingdales to Staples with a flick of your wrist.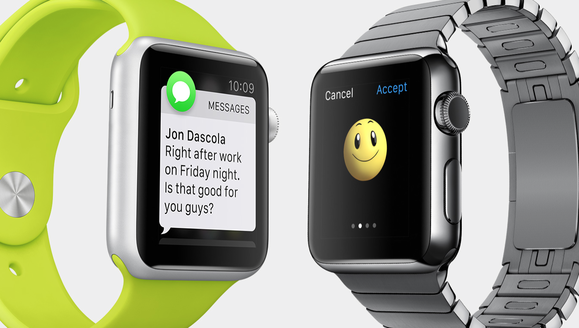 Apple Watch will come in three different models-from a baseline version to an ultra-luxe 18K gold edition-and six different bands will allow a wide degree of personal customization. "Taptic" feedback puts pressure on your wrist for iPhone notifications, and can even send signals to turn left or right in the watch's navigation app.
And, yes, this gadget requires an iPhone to work.
In many ways, the Apple Watch feature set looks like it was borrowed from other smartwatch companies. Dig: The gadget tracks your steps and heart rate. It displays smartphone notifications. But Apple's message is that Apple Watch does all these things better than the competition. And with its perfectly contoured edges, luxury materials, and nifty new UI, it's got all the visual trappings of another "God device" from Apple. That's a potentially transcendent advantage that could send competing wearable-tech manufacturers back to their drafting tables.
A physical dial replaces some of your finger taps
Tim Cook proclaimed Apple Watch will "redefine what people expect from its category" and that the wearable is the "next chapter in Apple's story." To help achieve such lofty goals, the Apple Watch doesn't ditch third-party apps-which are always so difficult to implement on wearables-but instead reimagines the smartwatch UI. The key is a new "Digital Crown" that's used to navigate the teeny-tiny visual elements on the curved, sapphire display.
The new crown translates rotary movement into digital data. But that's just tech speak for a new navigation scheme that might solve the problem of swiping through icons on a necessarily minuscule display. The crown can be used to zoom in on interface elements and scroll through content-actions that would otherwise require finger gestures in a less advanced UI.