MEElectronics's A161P In-Ear Headphones are a best buy
MEElectronics's A161P looks modest, but it offers impressive headphone value at $129 (and even more so at street prices). It's easy to recommend for just about anyone.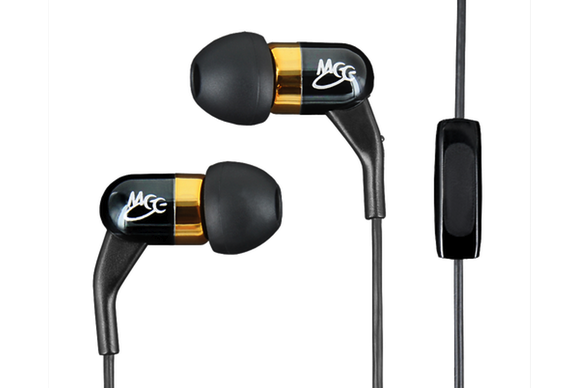 Car analogies are cliché in the audio world, but when I began reviewing MEElectronics's $129 A161P Balanced Armature In-Ear Headphone with Inline Microphone and Remote (let's just call it the A161P), the first thing I thought of was a "sleeper": a car that looks modest inside and out, but packs serious power under the hood--the Volvo 850R wagon is a great example. By saving money on exterior finish and interior luxury, extra resources can be put into the bits that make the car go fast. (There's the bonus that the car doesn't attract undue attention, but that's tangential here.) The A161P is a sleeper headphone.
In the ear
Although the A161P doesn't look cheap, it doesn't look particularly fancy, either. The earpieces are small, black capsules printed with the company's "MEE" logo and capped with a gold-colored nozzle that guides sound into your ears. That stem hosts a standard silicone eartip that allows the earpiece to seal in your ear. On the opposite end of the earpiece, substantial strain relief supports the headphone cable.
The A161p is a a canalphone-style headset. Headphones with this design typically fit snugly--and relatively deep--in your ear canals, blocking most external noise and creating a solid acoustic seal to improve bass performance. The downsides of canalphones are that some people find it tricky to get a proper fit; you may hear some microphonic cable noise--bumps and scrapes of the cable that are amplified by the canalphones' tight coupling with your ear canals; and using them as a headset can be weird due to the occlusion effect of having your ears plugged while talking. (See our primer on in-ear-canal headphones for more details.)
On the cable for the right-channel earpiece sits an inline, one-button remote and microphone module. (One of the missing luxuries here is a three-button, Apple-style remote/mic.) The cord itself is thin, but it feels reasonably sturdy, and it terminates in a 45-degree-angle, 3.5mm (1/8-inch) stereo miniplug.
MEElectronics includes a solid "options package" (that is, accessories): a zippered, semi-rigid carrying case; removable cable-guide ear hooks to stabilize the A161p's fit; a shirt clip; an adapter for connecting the A161p to a computer's separate headphone and microphone jacks; and an adapter for some non-iPhone smartphones with different headphone-jack wiring. The A161p also includes an extensive fit kit, with three sizes of single-flange eartips, two sets of triple-flange eartips, and one pair of double-flange eartips.
In use, I found the A161p to be comfortable and easy to fit and wear. However, the cord has a some "memory effect" to it that causes it to coil in annoying ways, the split portion of the cord feels a little thin, and the remote feels slightly fragile, with some play in the fit between its two halves. The A161p's cord can be worn normally (with the cables hanging down) or up (with the cables routed up and over your ears). I almost always find that the latter style offers a more secure fit and reduces mechanical noise from the cable; that was the case here.