MacBook 2016 review: Ultraportable laptop satisfies with speed gains
It's not a desktop Mac replacement. The MacBook is ideal for on-the-go use.
Another option is to wait and see what Apple does with the MacBook Pro. Apple's Worldwide Developers Conference is in June, and the current MacBook Pro is a year old. Seems like the time is right for a MacBook Pro update between now and WWDC. The rumors say that Apple is working on "ultra-thin" 13- and 15-inch MacBooks, so if you're waiting for a MacBook Pro, you need to hold on for a few more weeks.
What about the MacBook Air? I think some people still think of the MacBook Air as the ultra-portable laptop; after all, that's how it was positioned when it was released. Longtime users even remember the previous MacBook line, which was positioned as the affordable laptop. But the MacBook is now the ultra-portable. The MacBook Air is Apple's affordable laptop, à la the Mac mini. And I wouldn't be surprised if it was treated like the Mac mini, with an update cycle that's much longer than other Macs.
The iPad Pro option
Maybe one of the reasons why some don't understand the purpose of the MacBook is because the MacBook is being considered from a laptop user's point of view. But if you think about it from iPad user's point of view, the MacBook starts to make more sense. iPad users are used to not having to connect devices to their tablet and relying on wireless connections, so having one port on a laptop isn't that big of a deal.
Now, I get that the notion of iPad-first may not seem practical, but I don't think it's unrealistic. Kids are using iPads in school, and people do use smartphones and tablets as a primary computing device.
If available ports are not an issue, then the iPad Pro could be an option over the MacBook. The 12.9-inch iPad Pro weighs 1.57 pounds, and with a keyboard case, you approach 2 pounds. So when it comes to weight, there's not really an advantage. There is one with the smaller iPad Pro; even with a keyboard case, the 0.96-pound 9.7-inch iPad Pro will have a cumulative weight under 2 pounds, though you end up with a smaller screen.
64-bit Geekbench 3 results: 2016 MacBook and iPad Pro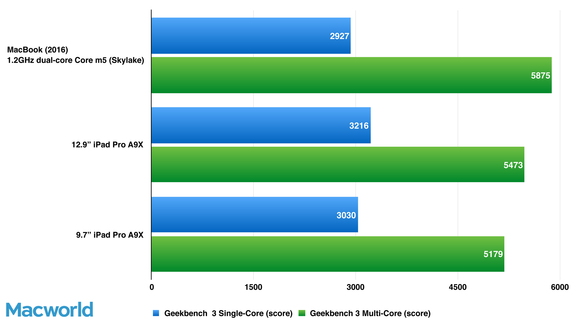 Longer bars/higher scores are better. Click to enlarge.
In Geekbench testing, the iPad Pro doesn't disappoint against the MacBook. So what it comes down to is iOS versus OS X and the apps. Can you do what you need to do within iOS? That requires a close examination of the software you use and the tasks you perform.
Bottom line
Previous Page 1 2 3 4 5 Next Page