Lola headphones review: Futuristic design, custom fit, and great sound
This year Blue dropped the amp—but nothing else—to create the less-expensive (US$250) Lola.
U2 is one of my all-time favorite bands, and I called up the band's Joshua Tree album (encoded in AAC format) on my iPhone to see how the Lola would handle the classic album. It was great. Bono's vocals, for example, came through clear and the timbre was well reproduced. Bass was a real strong-suit in just about every track I played. The Lola's presented "Running to Stand Still" with excellent instrument separation and a recessed soundstage.
It was immediately apparent that the spacing between my ears and the drivers, due to the Lola's thick ear pieces, afforded a more spacious and less forward musical presentation. This sensation was fairly consistent from track to track. Some people will really like this, while others might not. I think this gives the Lola a distinctive sound.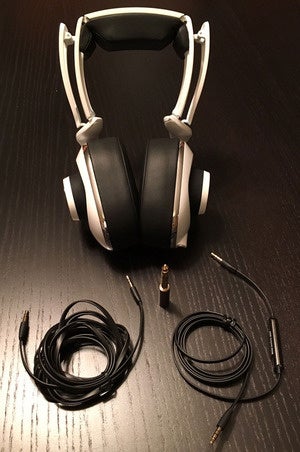 The Lola come with a conventional audio cable and a second cable that has an in-line mic and transport controls for iOS devices. Credit: Theo Nicolakis
As nice as they sounded overall, The Lola's upper mid-range and top end didn't dethrone more expensive headphones I've auditioned. In Loreena McKennitt's live album, From Istanbul to Athens, the crowd roar and applause lacked the detail and breadth you get from higher-end competition. Likewise, the Lola headphones just missed out on fully reproducing the crispness and delicate decay of the cymbals on the opening track, "The Gates of Istanbul."
Mating the Lola with higher-end amplification revealed nuances that were masked by an iPhone or iPod. Using the included 1/8-inch-to-1/4-inch adapter, I plugged the Lola into an Anthem AVM50v pre-amp and then a Benchmark Media Systems DAC2 digital-to-analog converter and headphone amp. I streamed albums ripped from CDs and encoded as ALAC files from an iTunes server.
Paired with either of those exceptional units, the Lola delivered cleaner and tighter bass; in fact, every instrument came through with higher definition. These headphones sound fine with a mobile device, but a dedicated headphone amp will truly reveal what they're capable of.
The Verdict: Clearly different
Over the Thanksgiving holiday, I had a half-dozen of my millennial-generation nieces and nephews check out some of the headphones in my collection. Of all the headphones to choose from, they were immediately drawn to the Lola and couldn't wait to try them. Even more, they were hard-pressed to put the Lola down.
As the headphone space continues to get more crowded, companies will look for different ways to make their headphones stand out. To that end, the competition should take note of Lola. Lola is a bold, distinctive, and futuristic-looking headphone that turns heads and sounds good to boot.
Previous Page 1 2 3 4 5 Next Page