Lola headphones review: Futuristic design, custom fit, and great sound
This year Blue dropped the amp—but nothing else—to create the less-expensive (US$250) Lola.
The Lola ear cups have a nice, leather-like feel, but I'm told that the material is actually a premium vinyl, not genuine leather. The company tells me this material provides the added benefit of moisture resistance for durability, cleanliness, and prolonged use. The inside of the ear cup is filled with memory foam.
To my eyes, a prominent feature of the headphones is the physical depth of the ear cups. It makes the Lola look a bit bulky as a result. Compared to other headphones, there is a lot of distance relative to where you ears are to the drivers. For example, many of the over-the-ear reference headphones that I personally own from Sony, Sennheiser, and Bowers and Wilkins range from 1/4- to 3/4 of an inch. With some of those headphones, the in-use distance is much less as the foam readily compresses.
The Lola's ear cups are much deeper: 1 and 1/8 inches. The memory foam inside is soft, but it also compresses less, maintaining greater separation between the driver and your ear canal. You immediately notice a sense of space around your ears as soon as you put the headphones on.
The left ear cup has a standard 1/8-inch input. Two flat, rubber-coated cables are included: a standard cable and an iOS-compatible smart cable with remote controls and an embedded microphone. The remote cable has forward, reverse and stop/pause buttons. Depressing the stop button twice skips to the next song. Depressing the button three times plays the previous song. Pressing and holding the stop button activates Siri.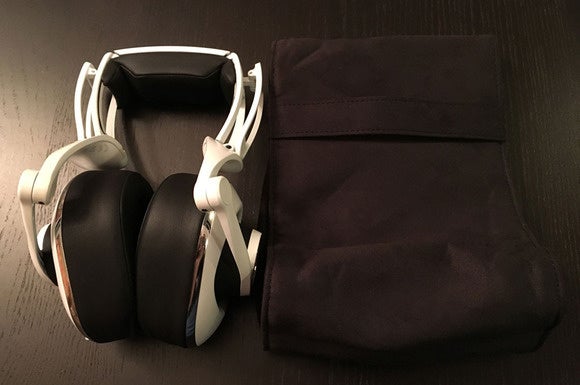 Blue provides a very nice soft carry case for when you need to travel with Lola. Credit: Theo Nicolakis
The pause/stop button is between the forward and reverse buttons. I didn't like the overall tactile feel of the control. For me, there wasn't enough space between the buttons, and I found myself sometimes unable to skip forwards or backwards consistently. The button controls don't match the industrial design of the headphone.
A really nice, soft carrying case is included. It has two internal compartments to separate the headphones and cables. The flap has a magnetic fastener, and the rear of the case has a handle so that you can slide your hand in for a secure hold on the case and headphones. I really liked this case. It made it easy to carry the headphones around.
Do they sound as good as they look?
For some, the styling and fit of the Lola alone will compel them to purchase a pair. It will be that easy. For others, it will be all about the sound. Given the Lola's superb materials and moderate price tag, I was curious to see how they measured up.
Previous Page 1 2 3 4 5 Next Page