LiquidText for iPad review: All you need for deep research projects
Gesture-based app smoothly integrates multiple document annotation.
Research can be tough, whether it's paper-based or online. From collecting and assembling documents to reading and extracting enough wisdom to formulate judgments and conclusions, the process of absorbing knowledge is a challenge.
LiquidText (iTunes Store link), an iPad-only app, seeks to impose some order in the new chaos of gathering and referencing information, with an innovative interactive interface that, in version 2, allows you to integrate multiple documents on one screen.
Used for reviewing and annotating PDF files, Word and PowerPoint documents, and web pages, the app's recent update boosts the price from free to $10. You pay that price only if you download the in-app purchase that facilitates multiple document handling. Otherwise, you can continue to use LiquidText for free, viewing one document at a time.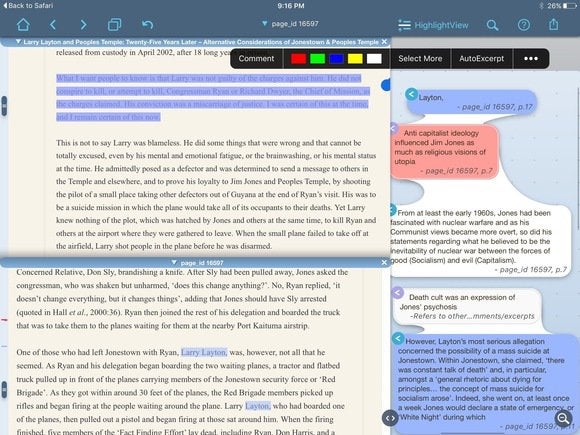 Multi-document drag and drop excerpts and comments in landscape layout.
The gesture-based LiquidText is designed specifically for active reading, an academic pursuit that involves highlighting, annotating, searching, and note-taking. The app is especially useful when paired with an iPad Pro because of its spacious canvas and companion Apple Pencil stylus. With LiquidText, Pencil has special powers, such as the ability to auto highlight text, firm-press to select images, and simultaneous scroll and excerpt function. But no worries if you have a different iPad model: LiquidText works with iPads running iOS 9.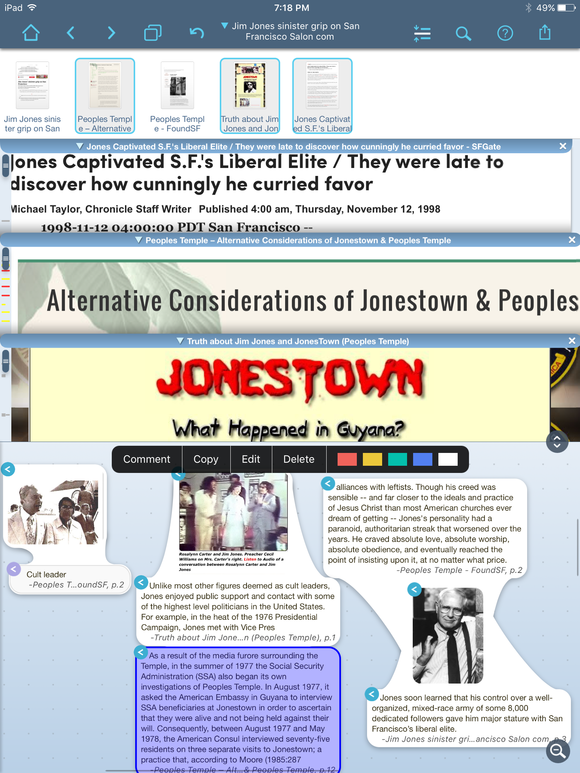 Multi-document view with images in portrait layout.Commenting
The app also integrates with popular online storage apps like Dropbox, Box, iCloud Drive, or email. You can import web pages into LiquidText directly from mobile Safari or work with the app's own browser.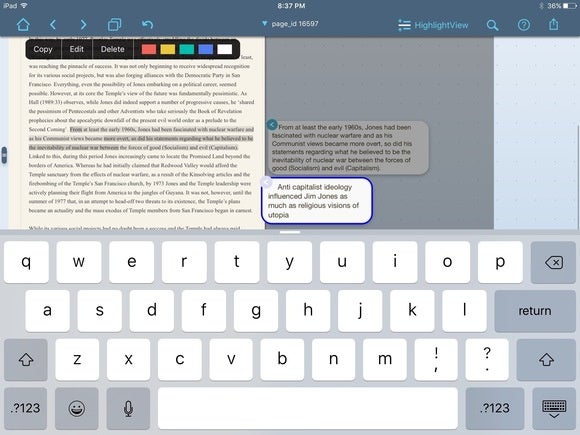 Commenting in LiquidText.
Interactive interface
LiquidText is not, at first glance, the most intuitive app, so the developer has devised a multi-faceted interactive instructional help system. A question mark icon at the upper right reveals on-screen instructions that clarify how to comment, highlight, work with multiple documents, and more. The app also provides various animated help cues, a chat interface, and a label system that users can summon when needed.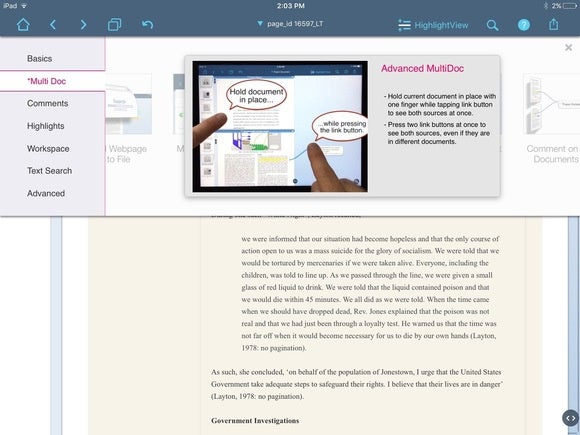 Instructional animations in LiquidText.
The layout is simple, and you can view your iPad in either landscape or portrait position. In landscape, the app places original documents on the left and an open work space on the right. In portrait, the workspace is below the document. The work space is the place to pull text excerpts or images, and type comments. Gestures let you highlight parts of the document and drag them to the work space or view all highlighted material at once via a HighlightView function.