LG Gram 15 review: You won't find a more portable 15-inch laptop
This large ultrabook offers ample workspace while being shockingly lightweight and ideal for travel.
Speaking of batteries and charging: As mentioned earlier, the LG Gram 15's USB-C port supports charging, but due to varying styles of implementation across manufacturers, not all chargers work interchangeably. A third-party charger by Innergie and the Google Chromebook Pixel's charger both provided juice, but the HP Spectre X2's charger did not. You can read more on why universal USB-C charging isn't yet perfect here.
Capping off the benchmarks are a slightly above-average sequential Q32 read speed and a slightly below-average write speed for a SATA 6Gbps solid state drive: 540MBps and 304MBps, respectively. In day-to-day use, performance feels fairly zippy.
As good as it gets?
From the looks of simultaneous wonder and doubt I saw on the faces of coworkers and friends over the course of testing the LG Gram 15 for this review, I'm expecting many people to bypass it in favor of smaller or heavier competitors. And I think that's a shame.
Yes, if weight doesn't matter a lot to you, you could get an ultrabook that offered a better keyboard and vastly superior trackpad. Any machine heavier than the Gram 15 would feel denser and thus sturdier, too.
But I travel like a backpacker, despite my slothful ways and general fear of the outdoors. Weight is everything to me. No other ultraportable I've owned has ever remotely matched the LG Gram 15's mix of performance, larger screen size, and low weight. My 12.1-inch Dell Latitude X200—a laptop that I adored, and still keep around because I can't bear to recycle it—had a Pentium III processor that was already slow when it launched. My Asus Eee PC netbook suffered from a severely underpowered first-gen Atom processor and a small, low-resolution screen. And my current travel machine, a original Surface Pro with a type cover, feels cramped whenever I work on a spreadsheet.
The LG Gram 15 is lighter than every single one of those machines.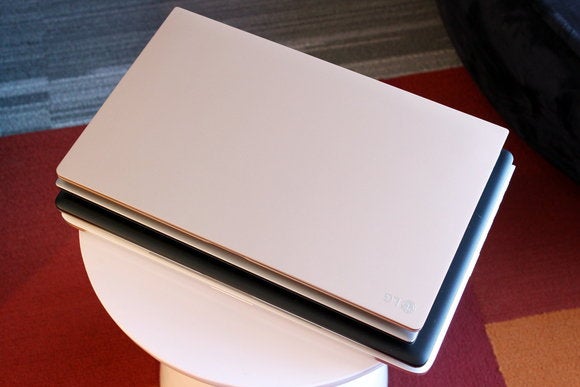 When piled together with similar ultrabooks, you'd never guess just how light the LG Gram 15 is—but you'll feel the difference as soon as you start traveling. Credit: Alaina Yee
A better trackpad and keyboard would have made the Gram 15 a hands-down win, despite the shortcomings of its screen. Besides being an easy travel companion, it has no bloatware preinstalled—just a very small handful of unintrusive LG applications meant to improve the experience, like a program for blue-light filtering.
That said, manufacturers don't often cater to those of us who consider each ounce that goes into our bags. Nothing like the Gram 15 has existed before, and I think it's very uncertain whether an improved version of it will in the future. Machines like this are incredibly rare. This is as good as an extremely ultraportable gets for now—though if Samsung's 15-inch Notebook 9 is an indication, perhaps there's a slim chance of even better times ahead.
Previous Page 1 2 3 4