LG Gram 15 review: You won't find a more portable 15-inch laptop
This large ultrabook offers ample workspace while being shockingly lightweight and ideal for travel.
The LG Gram 15 is impressive, but it's not perfect. Picking up the LG Gram 15 for the first time can be as unnerving as it is astonishing. The same materials that make its body so amazingly weightless—LG skipped aluminum in favor of magnesium alloys—also give it a hollow feel. While my review unit survived a multi-day, cross-country trip without incident, those who are harder on their gear might not be able to shake the sensation that you'll break this laptop if you look at it the wrong way.
The screen could be brighter, too. It tops out at about 300 nits, so though the Gram 15 is pleasant to use indoors, the display can't compete with bright sunlight.
Most disappointing are the Gram 15's keyboard and trackpad. The keyboard is tolerable, with adequate travel and decently sized keys, but it feels mushy and stiff. Its layout also requires some learning before touch typing becomes natural, thanks to the inclusion of a narrow 10-key number pad. On a laptop that seems designed for frequent travel, it's a shame that LG didn't provide a keyboard that would be enjoyable to use.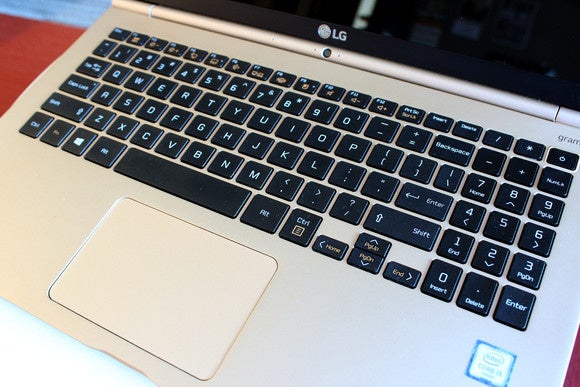 Dragging down the LG Gram 15's experience is its mediocre keyboard and subpar trackpad. You do get a dedicated 10-key number pad, though. Credit: Alaina Yee
The piano-hinge style trackpad, on the other hand, is borderline unpleasant. It feels hollow, and clicking near the top requires a surprising amount of force. Added to these qualities are imprecise multi-touch gestures, and tracking that's often too sensitive at faster cursor speeds. If you're not a trackpad fan to begin with, you'll find relief by using a Bluetooth mouse whenever possible, but some folks may decide that this design is a deal-breaker.
Mighty where it counts
Unlike other extremely lightweight laptops I've used in the past, the LG Gram 15 handled itself nicely in our benchmarks. Our review unit ran Windows 10 Home and came equipped with a 2.3GHz Intel Core i5-6200 Skylake processor, 8GB of DDR3L/1600 RAM, a 256GB SSD, and an Intel Dual Band Wireless-AC7265 combo 802.11ac/Bluetooth 4.0 card. This base unit has an MSRP of $1,100, but you can opt for an upgraded version with a 2.5GHz Core i7-6500U processor and a 512GB SSD for $1,500.
In PCMark 8's Work Conventional test, which simulates basic office tasks like word processing, spreadsheet data entry, video conferencing, and basic web browsing, the Gram 15 posted a score of 2,847. Actual use affirmed its responsiveness—everything from YouTube and local video playback to light photo editing felt snappy.
Previous Page 1 2 3 4 Next Page