LG Gram 15 review: You won't find a more portable 15-inch laptop
This large ultrabook offers ample workspace while being shockingly lightweight and ideal for travel.
The LG Gram 15 is astoundingly light. While many rival 15.6-inch laptops tip the scales at 4 pounds or more, this featherweight ultrabook weighs just under 2.2 pounds.
It's an absolute delight to hold. When balanced on two hands, the Gram 15 feels like almost nothing. And because of this lack of heft, you can easily use it while walking, cart it around on your back for very long periods of time, and breeze through TSA security lines without the usual awkward juggling of gear and luggage.
Finding a 15.6-inch laptop that travels more handily would be difficult. Especially since the base model's asking price ($1,100 MSRP and available on Amazon) keeps the Gram 15 right in line with its closest competition.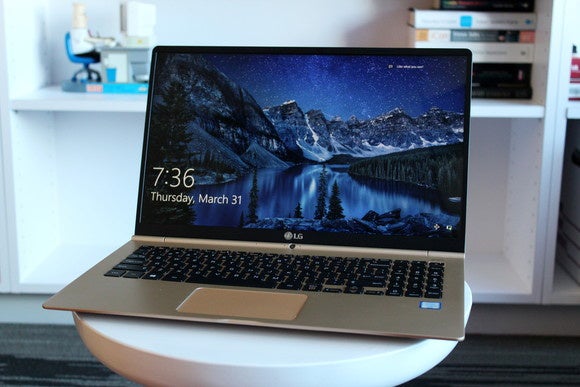 The LG Gram 15 starts at $1,100, with an upgraded version available for $1,500. Credit: Alaina Yee
Just look at the size of that screen
Oh, the real estate you get with this laptop. Being an ultraportable fan typically means sacrificing screen size for fewer pounds in your bag, but not with the Gram 15. Though its 1920x1080 display isn't as high-resolution as you might find in other 15.6-inch laptops, it is IPS, so it offers nice colors and a very good range of viewing angles. It also has a fairly narrow bezel—5.5mm at each side and just a hair over 8mm at the top.
Despite the size of its screen, the Gram 15 is still quite compact. Measuring 14.08 x 8.99 x 0.66 inches, it has very similar dimensions to Dell's XPS 15 but is almost half the weight.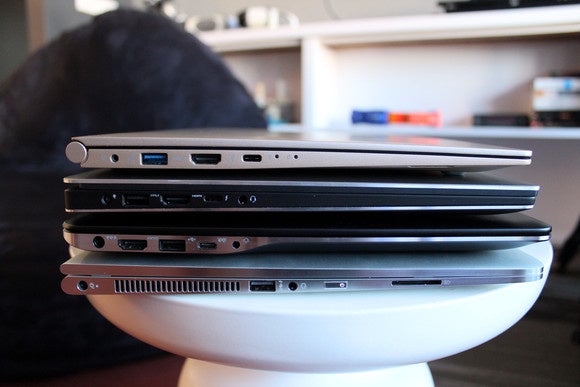 The LG Gram 15 (on top) has a very nice assortment of ports, including a USB Type-C for charging and data transfer. Credit: Alaina Yee
LG didn't skimp on ports, either: On the left are a barrel-style charging port, a USB 3.0 Type A port, full-size HDMI, and a USB Type-C port that supports charging and USB 3.1 5Gbps speeds. Note that the charging pin for the standard charging port is pretty slender, so it has a higher risk of breaking if yanked on while inserted.
On the right side of the machine is a Kensington lock slot, a USB Type A 2.0 port, a USB Type A 3.0 port, microSD card slot, and headset jack. There's also a 720p webcam placed in the hinge of the laptop, which results in awkward close-ups of your fingers if you need to type during a video call.
Slightly too good to be true