LG G5 vs Galaxy S7 always-on displays: Features and battery life compared
These two flagships share a similar feature, but usability and battery life vary.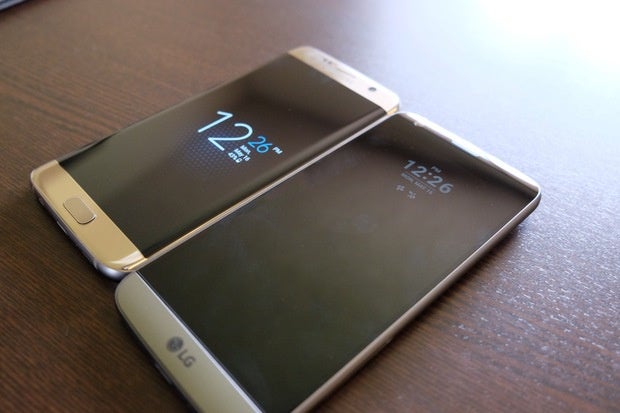 The LG G5 and Samsung Galaxy S7 line both have screens that never turn off, with each manufacturer claiming their respective solutions are optimized to use as little battery as possible.
How well does each device perform? And what features do they offer? We did a little digging to find out.
Different hardware
At first glance, the two different approaches to an always-on display seem very similar. In reality, the technology powering the two different implementations is very different.
Samsung's AMOLED displays are capable or turning on a series of individual pixels, instead of lighting up a larger portion of the display as the G5's LCD panel requires. In other words, if a pixel is black on the S7's display, then that part of the screen is actually turned off.
With the G5, the top-third of the display's backlight is turned on when the always-on display is active.
In theory, that should mean the G5's always-on display feature will consume more energy. Does it? We put the devices through a couple battery tests in an attempt to find out, but first, let's cover each manufactures approach to always-on displays.
Galaxy S7 features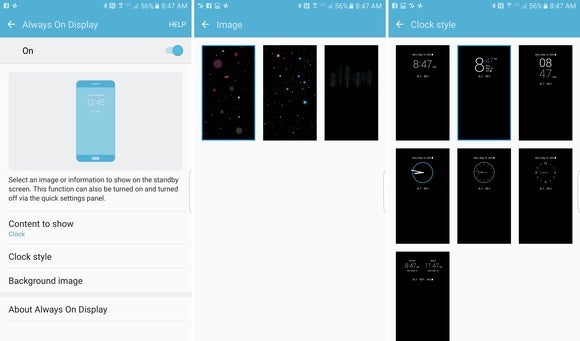 The Always-On Display settings for a Galaxy S7 Edge.
Samsung's always-on display feature offers more than just a means to check the current date, time, and battery stats.
Samsung gives users the option to switch between seven different clock designs, ranging from analog to digital. Single color white schemes, to two-color blue and white designs. Several patterns and designs are also available to have placed behind the clock, adding some color and personalization to the otherwise mundane look.
Additionally, S7 owners can opt to replace the clock with a calendar or one of three images provided by Samsung. The calendar option includes the current time, while the images are more like screen savers without any other details.
Samsung recently updated the Always-On Display app, giving users the ability to set a timeframe during the day or night when the feature is turned off. This is particularly handy for those who prefer not to have his or her phone light up a dark room late at night.
As for notifications, currently only Samsung apps are integrated with the feature. Meaning, you'll see missed call notifications, calendar notifications, and Samsung's email app notifications on the display. You won't see alerts from Gmail, Facebook, or any other third-party apps.
LG G5 features

The Always-On Display settings for an LG G5.
LG's implementation of the G5's always-on display is fairly basic, at least when it comes to customization. In the G5's settings pane for the feature, you're given few options. You can turn it on or off, and choose whether you want the time or a custom string of text (which LG calls a "Signature").