Lenovo's Yoga Book makes it easy to be creative on the go
Its unique touch surface lets you type, write, or draw digitally.
A simple, touch toggle switch turns the Halo Keyboard into a touch surface with 2,048 points of pressure. Pick up the Real Pen that also comes with the Yoga Book and use it as a stylus to draw directly on the touch surface. You can also place paper—any kind of paper—onto the surface to write or draw images that will be automatically digitized using Lenovo's Note Saver app.
The app does not do optical character recognition of written notes, but it can output any notes as PDF files. An included Create Pad attaches magnetically to the touch surface to hold paper, or just give you a softer surface upon which to write. The Real Pen doesn't need batteries—it charges while attached to the Yoga Book—and you can replace its ink cartridges.
I've spent just a little time with the Yoga Book during briefings and am looking forward to trying it for a longer period. Like HP's Sprout, it brings your hands and your creativity into the computing experience, and of course adds the power of digital capture. This is something I could take to a trade show or a museum, or on a trip. It would be light, versatile, and even fun, with better content-creating capabilities than a smartphone but less weight than a traditional PC.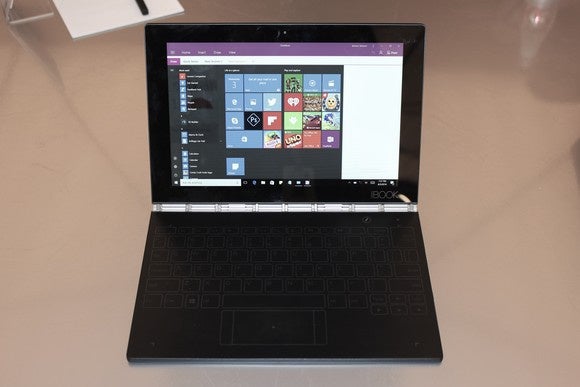 Lenovo's Yoga Book crosses a laptop with a sketchpad to make a mobile device that can be productive or creative.