Lenovo ThinkPad X1 Tablet review: Smart design makes up for performance shortcomings
Lenovo's ThinkPad line has a proud history of great design, which continues with this new convertible tablet.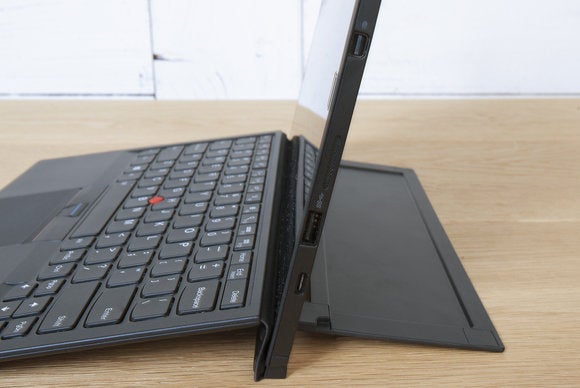 The kickstand unfolds after sliding a small latching switch on the rear of the tablet. The flat surface makes it very comfortable for lap use. Credit: Rob Schultz
The kickstand design is a clear victory for the ThinkPad X1 Tablet. It's not perfect, though: At an incline of about 30 degrees, the kickstand's hinge isn't quite strong enough to support the tablet's weight, and a touch or movement will make it gently fold flat.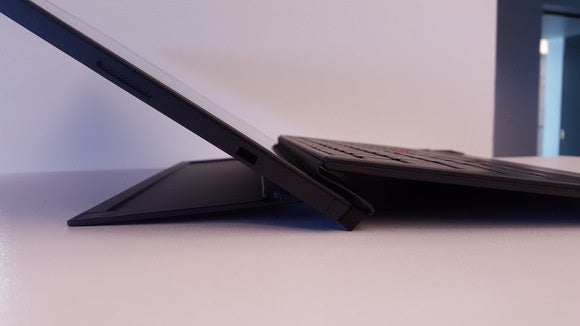 This is about as far back as the Lenovo X1 tablet's kickstand will allow before it folds flat by itself. Credit: Mark Hachman
Otherwise, the hinge allows the kickstand to rotate to nearly 90 degrees, and is resilient enough to support the device when flipped into presentation mode, as seen below.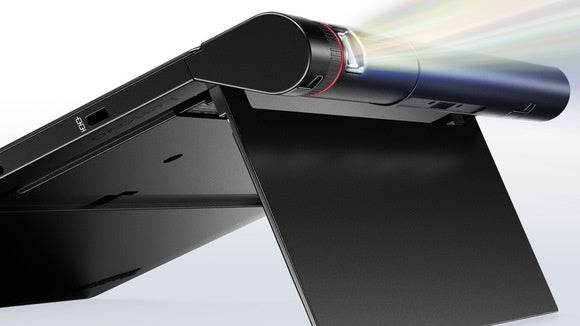 The Lenovo Presenter module, shown her with the ThinkPad X1's kickstand extended. Credit: Lenovo
I'm equally impressed with how Lenovo addressed the pen problem. If you've ever transported a convertible tablet, you're likely aware of how easily the pen vanishes into the depths of a bag or briefcase. The HP Elite x2's string tether solves the problem but looks childish, while the Surface Pro 4's magnetic pen clamp can't withstand the jouncing of my backpack. Only the Surface Pro 3's pen loop seems to have solved the issue, and the ThinkPad X1 Tablet uses a similar approach.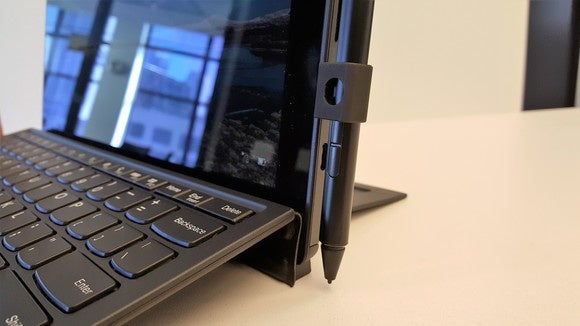 A pen clip slides into the USB slot on the side of the tablet. Credit: Mark Hachman
If you want to use a pen with the ThinkPad X1 Tablet (and it's included in the price, according to Lenovo), you can slip a plastic clip into a notch in the keyboard. The attached loop holds the pen securely. But there's a second pen option, too, for tablet-only users: a plastic pen holder that clips into the USB port. The latter option doesn't really hold the pen securely enough to transport it in a bag or briefcase, but it does find a home for it other than your pocket when toting the tablet around. More to the point, the pen holder secures the pen whether in landscape or portrait mode, and neither pen clip blocks any ports or power connections (other than the USB port the pen holder occupies).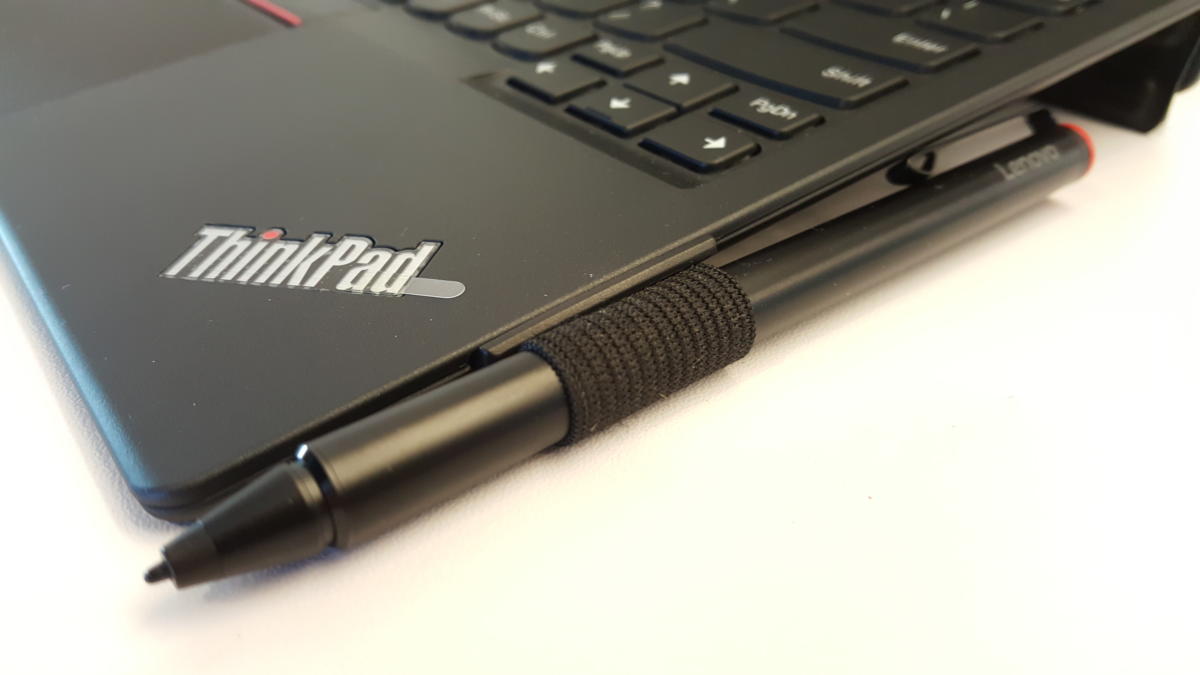 The pen loop is connected to a plastic tab, which slides into a cutout in the keyboard. Credit: Mark Hachman
Previous Page 1 2 3 4 5 Next Page