Lenovo ThinkPad X1 Tablet review: Smart design makes up for performance shortcomings
Lenovo's ThinkPad line has a proud history of great design, which continues with this new convertible tablet.
The ThinkPad X1 Tablet's magic happens via the 12-inch, 2160x1440 IPS touchscreen display, coated with Corning's Gorilla Glass and supporting up to 10 fingers of touch input. An LED backlight projects a fairly robust 390 nits of illumination through the glass, with an 800:1 contrast ratio. Our model also shipped with a fingerprint reader mounted where the Windows "home" button would reside in years past, enabling easy logins via Windows Hello.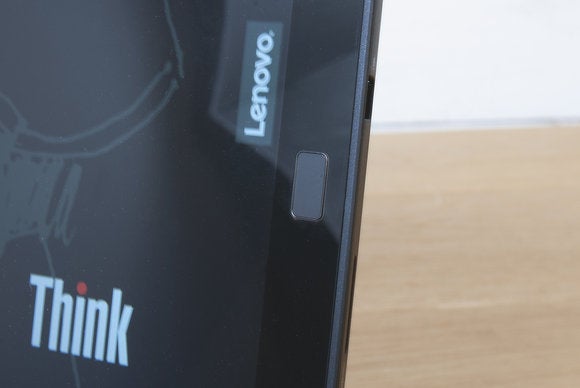 A fingerprint reader mounted on the front of the tablet offers Windows Hello support. Credit: Rob Schultz
A microSD card slot, which supports up to 64GB is tucked away under the kickstand.
The ThinkPad X1 Tablet hosts a number of connectivity options, including the choice of either a dual-band 2x2 802.11ac card, or a tri-band Wi-Fi/802.11ac card with WiGig on top of it. An NFC smart card reader is optional.
All of these features are available in some form or another in competing tablets. But Lenovo has also come up with something a bit unique: three ThinkPad X1 Tablet "modules" that add various functionality. Some earlier ThinkPads boasted optional "barrel batteries" that could add battery life—these three modules go beyond that.
The modules all fit between the tablet and the keyboard: There's the $150 Productivity module, which combines an additional 24Whr battery, USB 3.0 connector, HDMI, and OneLink connection; the $280 Presenter module, which adds a pico projector for presentations, HDMI, and a 10Whr battery; and the $220 3D Imaging module, which adds an Intel RealSense depth camera, HDMI, and a USB 3.0 port.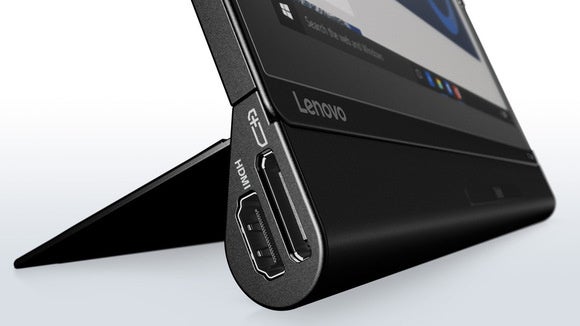 The ThinkPad X1 Productivity modue is just one that adds extra functionality. Credit: Lenovo
While these modules certainly have the potential to set the ThinkPad X1 apart from other convertibles, they weren't available for evaluation at the time of this review—Lenovo says they will begin shipping later this month. Once we're able to try them, we'll update our review.
The pen loop and kickstand: Worthy of praise
Virtually all convertible tablet PCs include a kickstand to help support the weight of the tablet, and the ThinkPad X1 Tablet is no exception. What's unique about the ThinkPad X1 Tablet, however, is that the kickstand folds out from the bottom of the tablet itself, providing a stable and, most importantly, flat surface to bear the tablet's weight. Typically, convertible kickstands focus the weight on a narrow strip of plastic or metal a few millimeters thick (like a bicycle's kickstand), which can press uncomfortably into your thighs. Lenovo distributes the weight over a 3-inches-deep plate that runs almost the width of the tablet, providing support and comfort.
Previous Page 1 2 3 4 5 Next Page