Lenovo ThinkPad X1 Tablet review: Smart design makes up for performance shortcomings
Lenovo's ThinkPad line has a proud history of great design, which continues with this new convertible tablet.
It would be a disservice to Lenovo's ThinkPad X1 Tablet to focus solely on the benchmarks. Because while other competitors in the convertible tablet space might boast superior performance, Lenovo's latest entry to the ThinkPad line honors the brand's legacy with a series of thoughtfully considered touches, including a bookend kickstand that seems obvious in retrospect.
There's a good chance you're mulling over Lenovo's ThinkPad X1 Tablet convertible based on the strength of the ThinkPad keyboard alone, long considered an industry gold standard. Lenovo complements that with not one, but two options for storing the included stylus, as well an ingenious kickstand that folds flat across your legs, making lap work feasible. You also get a display that's among the higher-resolution options available at 2160x1440, albeit still markedly lower-res than the screen in Microsoft's Surface Pro 4 (2736x1824).
In all, I'd call the Lenovo ThinkPad X1 Tablet a perfectly competent Windows 10 tablet, whose 1.1GHz Core m5-6y57 processor and 8GB of memory can chew through average office tasks with aplomb. Corporate admins should consider it for the optional vPro manageability technology, the TPM 2.0 security chip, and the rear screws that allow access to the battery, WWAN, and SSD. Otherwise, my nitpicks include the mediocre trackpad and the possibly redundant buttons that flank it, as well as the iconic ThinkPad trackpoint, which may be getting a little long in the tooth.
Still, Lenovo's never stood for flair and whimsy: It's a ThinkPad. It gets work done.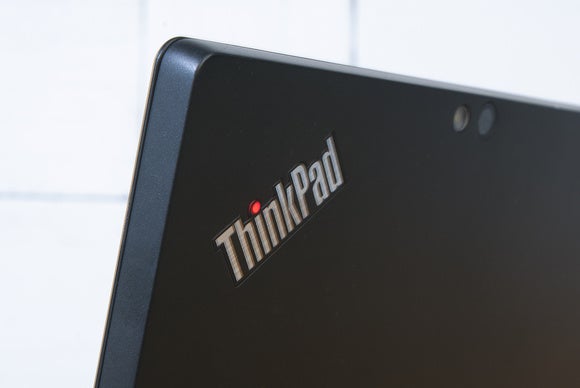 Yes the red dotted "i" is indeed an LED power light, as in ThinkPads past. Credit: Rob Schultz
What's inside counts
The ThinkPad X1 Tablet itself measures 11.48 x 8.25 x 0.34 inches, and weighs just 1.69 pounds—light enough for one-handed use with a stylus. The tablet body is built of magnesium, in ThinkPad black of course; you shouldn't have any problems with smudges. With the keyboard, the total weight comes to 2.35 pounds, on the lighter end of the convertible tablet range. Unlike Microsoft's Surface series, the keyboard is included in the price of the ThinkPad X1 Tablet: $1,349 for our review unit.
The Core m5-6y57 in our unit has a base clock of 1.1GHz, but can theoretically reach 2.8GHz in turbo mode. (As we note below in the performance section, that rarely seems to happen, due to some throttling.) Core m3 and Core m7 are also options. Our unit shipped with 8GB of 1,866MHz low-power DDR3 memory, soldered to the motherboard, and 256GB of storage. By comparison, Microsoft's own Core m3 version of the Surface Pro 4 costs just $899, with 4GB of RAM and 128GB of storage, but you'll need to pay $130 for the Type Cover, too.