Lenovo Ideapad 100S-11 review: A promising portable with storage issues
As a budget laptop, the 100S-11 has a lot going for it, but it's hamstrung by its tiny amount of storage space.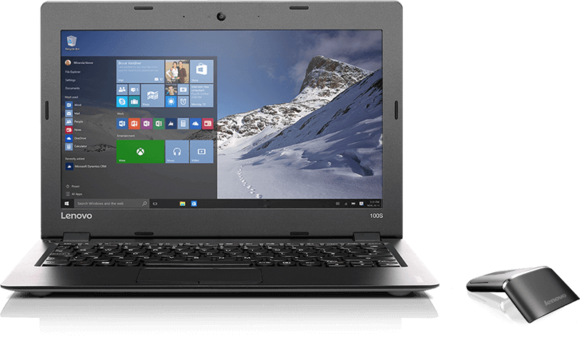 Sight unseen, what would be your expectations for a laptop that costs only $180? Come on, be honest. Probably lower than dirt. Well, if I were talking about the Lenovo Ideapad 100S-11, you'd be dead wrong—at least until you ran up against its inadequate storage.
It fooled me
I came at the 100S-11 from the opposite direction. I was hands-on long before I knew the price, so it came as a surprise. There's no cheap or plastic vibe to this product, and the performance, while far from scintillating, didn't give anything away. (Okay, the display's not that great, but it is usable.) It was only when Windows 10 complained that it didn't have enough disk space to upgrade that I started to clue in.
What the 100S-11 truly is, like HP's Streambook 11, is a netbook that has come of age. The storage is kind of a deal-killer, though: The 100S-11 we tested had only a 32G eMMC (embedded MultiMedia Card) drive, which will frustrate you unless your computing needs are extremely light and will always remain so. It also makes me wonder whether the people who decide on the specs ever actually use computers. Lenovo's spec sheet says there's a 64GB version, but I couldn't find it online.
The good stuff
What's nice about the IdeaPad 100S-11 is just about everything on the outside, and aside from the storage, everything on the inside. The 11-inch, 1366x768 non-touch display has enough usable brightness (200 nits), and the backlighting is fairly even and doesn't leak along the sides. Because the viewing angle is quite narrow—"quite" as in "possibly annoyingly so"—your best views will be from dead center. For $180 I can live with it. If it were $100 more, I'd take an extended tour of gripe city.
The 100S-11 is decently thin at 0.75 inches, decently light at 2.2 pounds, and feels solidly constructed. It's very good-looking, styled in matte-black paired with either red, silver, or blue on the top and bottom.
As far as input goes, I would've done dirty deeds for a keyboard this nice during my sole foray into netbook ownership. It's spacious, types well, and even has decent tactile feedback. It does Lenovo proud, which I haven't been able to say about some of its previous efforts in the mobile device space. The touchpad is a little sensitive to taps for my taste, but I don't have any real complaints.
Not-so-good stuff
I'm going right back to that 32GB eMMC drive. You have to plug in an external drive to upgrade Windows, for goodness sake! You'll want the 64GB 100S-11 when and if it ships.