Knomo Alice is super stylish, lacks substance
This high-end laptop tote values style over substance, but still gets the job done.
In order to carry laptops, tablets, charging cables, smartphones, headphones, and all the rest of it, some people prefer to use a backpack. Some people prefer the cross-body access of a messenger bag. And some people are women who would rather just chuck it all into an ample purse. To answer the call of ladies who like to carry a good deal of gear while still looking professional, high-end bag maker Knomo has the Alice, a line of oversized laptop totes.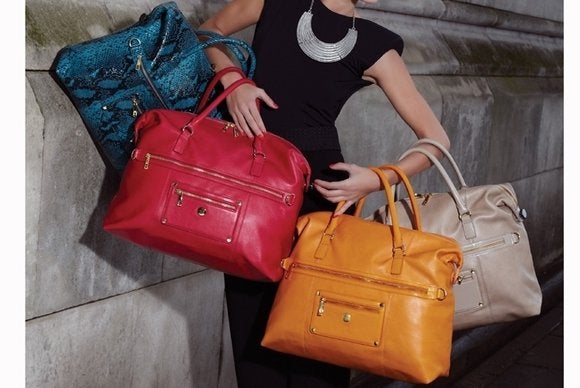 Currently available in black, terracotta, mango, and cognac, the Knomo Alice is constructed from soft pebbled leather and has a soft, bright pink cotton lining. The outside of the bag measures 15 inches by 17.3 inches by 5.5 inches, it fits laptops up to 15 inches, and weighs 3.6 pounds empty, so it's no lightweight.
The front of the bag features one large zippered pouch, and one tiny zippered pouch with a pocket behind it. Both the small pouch and pocket are ideal for key cards, bus passes, or business cards; the large zippered pocket is more than capable of carrying everything from keys and sunglasses to MP3 players and tablets. The larger pocket is great for anything you'd like to have easily at hand, and the lining is gentle on gadgets.
The roomy interior of the main section of the Alice holds a quilted and lightly padded laptop sleeve as well as an additional large zippered pocket and three pouches of varying sizes. The laptop sleeve is fine--I had no issue fitting my ultrabook or any of the accompanying cables and connectors inside. It was also thick enough so that I felt comfortable carrying my laptop without any additional padding or sleeve. The pocket and pouches proved ideal for carrying smartphones, earbuds, gum, and a multitude of smaller items.
The interior of the bag is quite large--I carried the Alice for several weeks and rarely found myself unable to fit something inside it, from notebooks and wallets to make up bags and lunch items. There wasn't a thing in my day-to-day life that couldn't fit nicely inside. It's also quite expansive, which makes sense as Knomo bills the Alice as a tote/weekender.
And indeed, the Alice is best suited for light travel--it's too heavy and large to carry as a daily purse, and not designed for hard core travel (like say, a week at CES). However, it does excel at more common tasks such as bringing work home over the weekend (laptop, notebooks, review product) or a weekend getaway (where it was spot-on the perfect bag to bring, but I admittedly wasn't carrying a laptop). In those instances, the Alice was an ideal bag and more than up to the task.