Kindle vs Fire: How to choose the right Amazon e-reader
So you've narrowed the e-reader field to Amazon's lineup. We'll help you pick the right model for your needs.
7-inch Fire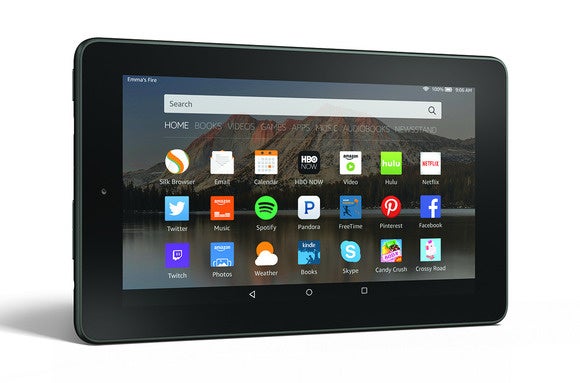 Amazon's 7-inch Fire tablet isn't fancy, but it's dirt cheap—especially if you catch it as one of Amazon's "lightning deals," when it will be available for just $35. Credit: Amazon
Speaking of bang for the buck, take a look at Amazon's 7-inch Fire tablet: The Fire's specs read like a state-of-the-art tablet circa 2012, but you can pick one up for just $50—and if buy you five, Amazon throws in a sixth one for free. Even better, Amazon is running a promotion through Friday, November 27 that discounts the Fire to just $35 if you catch it as one of Amazon's "lightning deals." The buy-5-get-1-free deal does not apply during the sale.
Now before you trip over yourself to buy one, know that the Fire has a very slow quad-core processor, just 8GB of memory, a monophonic speaker, a VGA-quality front-facing camera, a 2-megapixel rear-facing camera that records 720p video, and a single-band 802.11b/g/n Wi-Fi adapter that can connect only to crowded 2.4GHz networks. Most importantly—at least when you think of it as an e-reader—its 7-inch display delivers resolution of only 1024x600 pixels. That's just 171 pixels per inch.
The Fire is outfitted with an IPS touchscreen, which is vastly superior to the less-expensive TN panel that Amazon could have opted for at this price, but it's highly reflective and it doesn't refresh as quickly an e-ink display can. As with the Kindles, you'll need to pay a little more to avoid those special offers, but there is no 3G option.
So the Fire isn't the best e-reader value, but it is capable of a lot of things that even the top-shelf Kindle Voyage is not. You can watch cat videos, for instance. You can surf the web and read things other than books, including email. You can play games (as long as they're not too processor intensive). You can take pictures and shoot video. You can stay in touch with friends and family on social networks, like Facebook and Twitter. You can listen to music. And more.
Will those media experiences be as fluid and fast as they would on a more-expensive Android tablet or on one of Apple's iPads? Certainly not. But show me another name-brand tablet that you can buy for $50.
Fire HD 8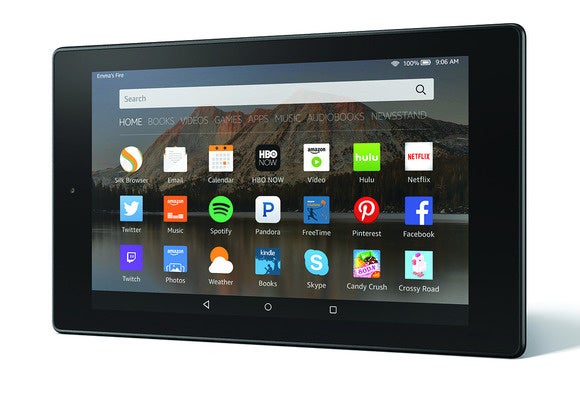 Spend $150 for Amazon's Fire HD 8 and you're getting closer to a full-featured tablet, but you'll still need to accept compromises in features and performance. Credit: Amazon
Amazon's Fire HD 8 is just one inch wider than its Fire sibling, but the bigger model has a slightly faster processor, a dual-band 802.11ac Wi-Fi adapter, and stereo speakers (boasting Dolby Atmos, for some reason). While the 1280x800 Fire HD 8 delivers slightly higher resolution than the Fire, these pixels are spread over a larger touchscreen, resulting in a pixel density of 189 pixels per inch (compared to 300 dpi for each of the new Kindles).
Previous Page 1 2 3 4 Next Page