Kindle vs Fire: How to choose the right Amazon e-reader
So you've narrowed the e-reader field to Amazon's lineup. We'll help you pick the right model for your needs.
Reading is one of life's finer pleasures, especially while tippling your favorite beverage. E-readers make this pastime supremely convenient. If you've decided to choose from Amazon's lineup, we'll help you pick the right one for your needs (or for that special someone on your holiday shopping list).
There will be times when you'll miss the tactile feedback that only a product crafted from ink and dead trees can provide, but the benefits of e-readers are almost too numerous to count: You can read one in the dark. You can change the font and its size. There's no need to go to the store to buy something new to read (or to wait for it to be delivered). You can get definitions of words you're not familiar with. The list goes on and on.
Amazon builds two classes of tablets that can be used as e-readers. There's the Kindle series, which are tablets with black-and-white displays based on e-ink technology, and there's the Fire series, which are tablets with full-color LCD displays. The Fire series includes Amazon's more versatile tablets, since they can be used for watching videos, playing music, surfing the web, playing games, and more. But the tradeoff for this versatility is that their lower-resolution screens don't render text nearly as crisply as the Kindle models.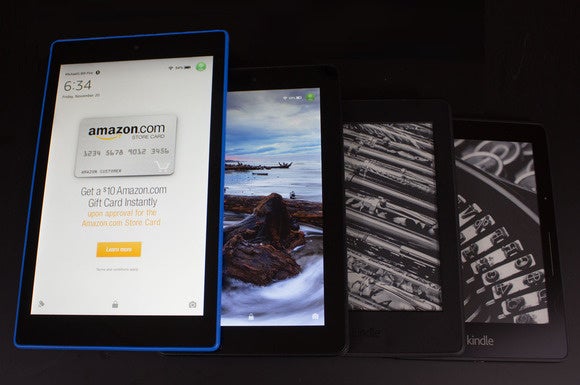 From left to right: Amazon's Fire HD 8 (with its special offers lockscreen), Fire (unsubscribed from special offers), Kindle Paperwhite, and Kindle Voyage. Credit: Michael Brown
Here are a couple of other things to consider: You can purchase any Kindle with a 3G option that enables you to purchase books and sync to your account in the cloud, among other things, whether or not you have a Wi-Fi connection. That can be super handy when you're traveling away from home, but it tacks $70 onto the cost of the tablet. This 3G option is not available with the Fire series at any price.
You can also pay an additional $20 for a Kindle that doesn't display Amazon's "special offers"—advertisements that appear on the device's lock screen when it goes to sleep. These ads are the first thing you'll see on a Kindle Fire when you wake it up, and they appear on a Kindle even when it's asleep (fortunately, they'll never interrupt your reading experience). If you didn't do it at the time of purchase, you can pay to "unsubscribe" from these special offers down the road by logging into your Amazon account and navigating to your My Devices page.
I'll cover the Kindles first, since they are more or less dedicated to book reading. Every Kindle has a non-glare screen, which is one of their principal advantages over LCD tablets. But I'm recommending only the two models that also have backlights: the Kindle Voyage and the Kindle Paperwhite. The baseline Kindle is less expensive than these models, but you'll need a supplemental light source if you want to read in darker spaces. If you buy the non-backlit model, you can bet your bottom dollar you'll end up buying a kludgy clip-on light down the road. So it's better to spend the money up front than to deal with one of lights.