iPhone 6s rumors: Hello rose gold, goodbye iPhone 5c
Stay on top of the most important iPhone 6s rumors and how likely they are to come true this fall.
0.2 millimeters thicker?
The rumor: For only the second time in history, Apple will be making its iPhone thicker. This week 9to5Mac uncovered some CAD drawings that show both upcoming iPhone models being 0.2mm thicker than their current counterparts. (Trivia hounds may remember that the iPhone 3G was 0.02 inches thicker than the original iPhone.) If these drawings are true, the iPhone 6s will be 7.1mm thick, as opposed to the current model's 6.9mm. Similarly, the iPhone 6s Plus goes from from 7.1mm to 7.3mm.
Plausible? 9to5Mac speculates that the increase could be Apple's response to "bendgate" or to give the new iPhones a larger battery. A more sturdy iPhone with longer battery life? Sound like very good enough reasons for the additional thickness. Engadget Japan also backs this rumor, adding that the 0.2 millimeters are needed to accomodate for Force Touch (read more about that rumor below).
Bye-bye Home button?
The rumor: Your next iPhone might not have a Home button. Wait, what? 9to5Mac has a report, sourced from the "variably reliable DigiTimes," claiming that Apple is developing single-chip solutions to integrate touch and display drivers.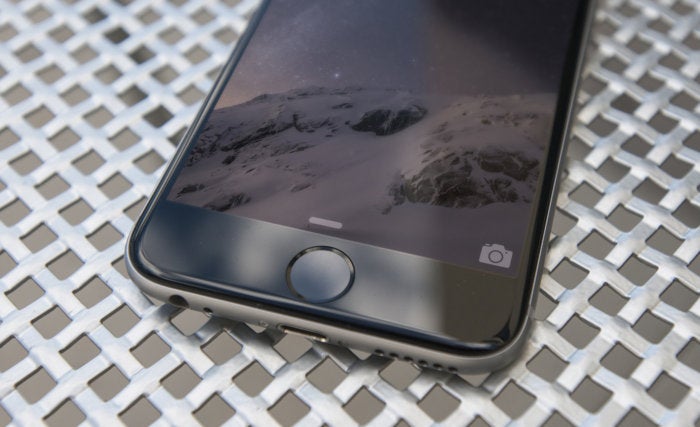 Rob Shultz
We'd miss you, Home button.
What does that mean? That the display could have a "whole plane design" that could theroretically eliminate the Home button. Instead, you'd touch a sensor embedded in the screen, which could recognize not just that you're tapping it, but your unique fingerprint too, similar to what Touch ID does now.
Plausible? Any technology that can make the iPhone thinner and with a more beautiful display is something Apple would pursue. This could be a step toward edge-to-edge displays that don't need such a large "chin" to accomodate the Home button, which would mean Apple could make the overall phone smaller without sacrificing the nice, large screen sizes we've come to love. But DigiTimes isn't always accurate, and this kind of advancement could take a while to happen.
We doubt the next iPhone would ditch the Touch ID button—which is integral to Apple Pay, after all—even if it brings in a Force Touch feature like Apple has rolled out for the Apple Watch and new Force Touch trackpads.
May the Force Touch be with us?
The rumor: Following the introduction of Force Touch and haptic feedback on the Apple Watch and some MacBook trackpads, the iPhone 6s will be next to add these features. Force Touch on the iPhone 6s will allow you to launch turn-by-turn directions in Maps, view more track options in Music, and perform other quick functions by simply pressing more deeply on the screen.
Previous Page 1 2 3 4 Next Page