iPad Pro vs. Microsoft Surface Pro 4 for business supremacy
The Surface Pro 4 and iPad Pro are both high-end, sleek and powerful hybrid tablets. But when it comes time to get down to business, which device offers the functionality you need?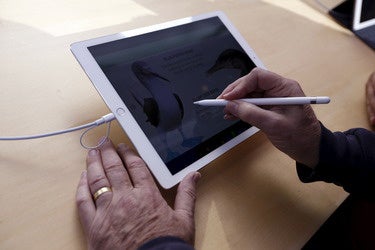 Credit: REUTERS/Stephen Lam
The Surface Pro 4 comes far better equipped for a seamless transition from your desk to home or while you're on the road. Its connectivity offers a lot more flexibility, and you can even purchase a proprietary docking station that will allow you to hook up the Surface Pro 4 to multiple displays, a keyboard, mouse and more.
Peripheral vision
Both the Surface Pro 4 and iPad Pro have keyboards that you can purchase separately. Each keyboard supports the device and offers a similar experience to a traditional notebook. The one big difference between the two, however, is a trackpad. Apple's iPad Pro Smart Keyboard does not have a trackpad, and you can't use a mouse with the device.
While it's one small difference, it might make or break it for some business users. If you find that you are more productive with a mouse, rather than just a touch screen, you'll want to go with the Surface Pro 4. Another thing to note is that both devices can also be used with a stylus. Apple has the Pencil, while Microsoft has the Surface Pen. You'll have to purchase the Apple Pencil separately, while the Surface Pen comes included with the device.
The Surface Pro 4 definitely wins when it comes to peripherals, it not only allows you to connect multiple displays, but with the option of a mouse, you can easily transition between displays and apps flawlessly. With the iPad Pro, since you can't use a mouse, you'll be stuck turning to the device to tap on the display anytime you need to multitask or change apps.
Battle of the operating systems
This one depends on what ecosystem you use at work - OS X or Windows. If you have a work-issued Mac and iPhone, an iPad Pro will seamlessly integrate into your working life. Your messages, apps and more will naturally sync between devices. You can even answer a call on your Mac or iPad if your iPhone is in range. Alternatively, even if you use Windows at work, there are a lot of Microsoft apps available in the iOS app store, including Word, PowerPoint, Outlook and Excel. However, with the iPad Pro, you're limited in the sense that it's a mobile operating system, rather than a full desktop operating system like OS X or Windows 10.
On the flip side, if you work solely with Windows 10 devices, a Surface Pro 4 offers a seamless experience between apps, programs and even settings. Where you'll run into problems with the Surface Pro 4 is if you have a Mac and an iPhone for business. There aren't nearly as many apps and programs that can run on both, and integration between the two is more difficult. It's not impossible, and you might not care about apps or texting on your Surface Pro 4, but it does have its limitations if you're looking for continuity between operating systems.