iPad Pro vs. Microsoft Surface Pro 4 for business supremacy
The Surface Pro 4 and iPad Pro are both high-end, sleek and powerful hybrid tablets. But when it comes time to get down to business, which device offers the functionality you need?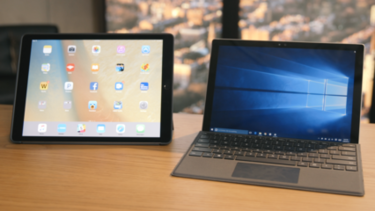 The Surface line up once stood alone as one of the only proven hybrid tablet-notebook devices on the market. And, for a while, no one took it that seriously. But as it grew in popularity, other companies followed suit, including Apple with its latest iPad Pro. Both devices are sleek and high-end, but when it comes to their biggest demographic - business users - which one takes first place?
Portability and Design
In terms of portability and design, it's really a tie between the Surface Pro 4 and iPad Pro. You can't go wrong with either device. Both sleek, stylish and lightweight. The Surface Pro 4 measures just .33-inches thick, while the iPad Pro is slightly thinner at .27-inches. In terms of weight, the iPad Pro weighs in at 1.57 pounds, while the Surface Pro 4 is just slightly heavier at 1.69 pounds. But looking at the differences in size and weight is really a case of splitting hairs. Either device is going to offer a portable experience with a high-end premium finish.
Display
Much like the portability and design of these devices, you aren't going to miss out on much in the way of display if you opt for one over the other. The Surface Pro 4 has a 12.3-inch display, while the iPad Pro measures at 12.9-inches. Both offer a decent amount of real estate for using apps and snapping two apps or windows side by side. In terms of resolution, it's pretty much a draw, with the Surface Pro 4 boasting a slightly higher pixel density at 267 ppi, while the iPad Pro touts a 264 ppi. With either device, you will be treated to a crystal clear display that offers great color representation and a crisp viewing experience.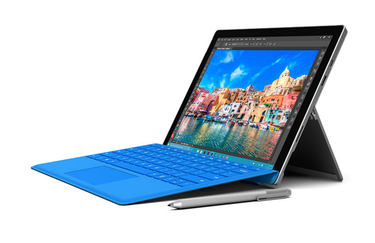 Credit: Microsoft
Connectivity
When it comes to connectivity, the Surface Pro 4 beats the iPad Pro out of the gate. The Surface 4 Pro has a full-sized USB 3.0 port, microSD card reader, Mini DisplayPort and SurfaceConnect port built into the device. The iPad Pro, however, has the Lightning connector for charging the device or the Apple Pencil and a Smart Connector that basically just allows you to connect a keyboard without Bluetooth.
As with past Apple devices, you can purchase a separate dongle that connects to the Lightning port to give you HDMI output or the capability to use a MicroSD card, but the options beyond that are limited. So if someone hands you a USB drive with important documents on it, you'll first need to upload those to a cloud storage service on another device that can read USB devices. And if you want to connect it to a non-Apple display, unless you have an Apple TV that can mirror the device to your TV, you'll need to deal with an HDMI converter hanging out of the charging port, hogging the lightning port.