iPad Pro review: Why the best iPad yet won't work for everyone
The iPad Pro won't replace my iPhone or my Mac, but it provides a mostly great experience, thanks in large part to the Pencil.
I'm not really sure why it's so round—I hate putting it down and seeing it roll away—and I'm fairly afraid of losing the little cap that covers the Lightning port. And I don't actually need the Pencil for my workflow, since I mostly type text into boxes and edit JPEGs in Pixelmator. So while I love using it like I used to use notebooks and pens, I could buy an iPad mini and a lot of very fancy notebooks and pens before I hit the $900 barrier to entry of the iPad Pro and Pencil. But graphic designers will think this setup plus an app like Astropad is a bargain compared to a Wacom Cintiq. More uses for the Pencil could emerge over time as well—developers and tinkerers are already experimenting.
Hits and misses when trying to work
Some work apps really do benefit from a bigger canvas. Drawing apps like the wonderful Procreate, sure. Editing photos with Pixelmator, definitely. Apps with a lot of tools like iMovie are a natural for a larger screen. And when you're working with two apps side by side, it's great to be able to give each of them the space of an entire iPad Air. But the apps I use the most on my iPad—Byword, Safari, Kindle, Mail—are just as good on a 9.7-inch iPad Air (or even a 7.9-inch iPad mini) as they are on the 12.9-inch iPad Pro. (Full benchmarks are here.)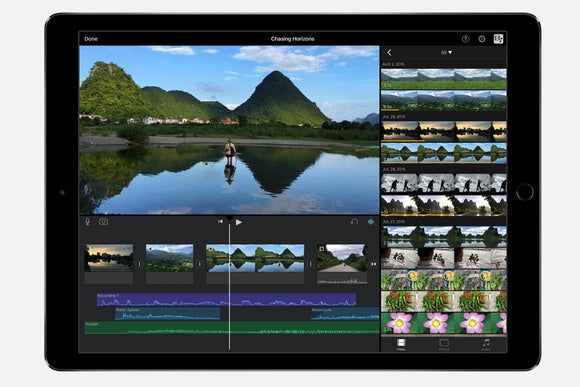 Apple iMovie on the iPad Pro: It's faster and roomier than ever, but I'd still rather use a Mac.
Plus, running two apps side by side isn't exactly multitasking. I kept running into limitations that I could work around, but didn't want to have to. I liked having Byword open along with Safari in Split View on the iPad Pro. But on my Mac, I typically have more than one Byword document open at a time—one file with notes and another with an article in progress, usually—and the iPad can't do that, since you can't have the same app open in both sides of Split View. If you want to see two webpages side by side rather than just in tabs, you have to open them in different browsers. And of course, not every iPad app supports Split View.
That's not all. On my Mac, I use a few utilities that can run in the background, like RescueTime, which logs every minute I spend using various Mac apps and websites, but has no iOS version. Only on my Mac can I record Skype calls for the podcast, while plugged into ethernet for the occasion. My Mac lets me download files more easily and organize them however I like—although the iCloud Drive app in iOS 9 has made that easier on the iPad than it's been in the past.
Previous Page 1 2 3 4 Next Page