iOS 10 public beta is live: Here's everything you need to know
Back up, strap in, and go nuts! iOS 10 is ready for public beta.
While you're waiting for it to download and install, you can check out 20 iOS 10 features we're most excited about, or this more truncated look at 10 major headaches that iOS 10, watchOS 3, and tvOS 10 are going to fix.
Which devices are supported?
There's some bad news: iOS 10 doesn't support some of the older devices that are compatible with iOS 9. The iPhone 4s, second- and third-gen iPads, the original iPad mini, and the fifth-generation iPod touch are all being left behind. It's kind of a bummer: My third-gen iPad, purchased just four years ago, was still hanging on until I gave it away a month ago. It had definitely slowed down, and it couldn't take advantage of any of the iPad-related productivity features included in iOS 9. But still, four years isn't that old, even as hardware goes!
But I digress.
Take a look at the chart below to see if you can even put the iOS 10 public beta on your device: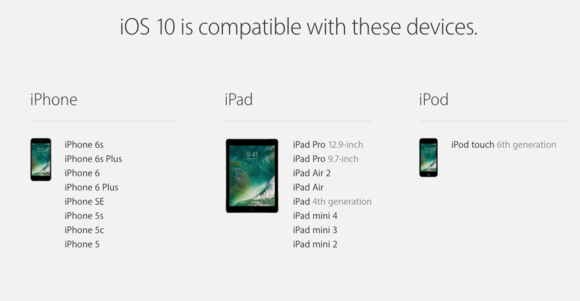 Is there anything special I should do to protect my data while I'm running iOS 10?
Back up and keep backing up. Back up like it's an Olympic sport and you're an alternate trying to make the first team. Back up your photos, and not just your Camera Roll. Someone sends you a cute photo or video in a text? Save it to your Camera Roll so you can back it up. Basically you don't want to have any files that are stored only on your iPhone or iPad running the beta. Everything should exist in another location too.
Since so much of what we do with our iPhones is cloud-based, you might not keep a ton of documents stored locally on your iPhone, and it can be easy to forget to back up. So give it some thought. Look at the apps you use—do they store things in your Dropbox, in your iCloud Drive, or in another cloud location? You should be OK. But files you create on your device—photos and videos spring to mind, but there might be more—need to be backed up often.
How do I install updates to the beta?
Apple will update the iOS 10 public beta a few times before the final version ships. But updating it is easy—you can update over the air in the Settings app, or use iTunes. It's always a good idea to back up before updating, of course.
Can I go back to iOS 9 if something goes wrong?
Yes you can. It requires erasing your device first, so you better believe you'll need a backup. You'll just connect your iPhone or iPad to your Mac, put it in recovery mode, and restore it to the backup you made before you installed iOS 10. So yes, you really do need to do a backup to iTunes before you install iOS 10's public beta.