iOS 10 on the iPad Pro: The 8 features you need to know
Minor but necessary tweaks are coming to the iPad this September. Here's a sneak preview.
The iPad Pro is a productivity powerhouse—or at least, that's what Apple wants it to be. The 12.9-inch Pro was released last November, and the 9.7-inch model debuted in March, so we weren't expecting to see any new hardware at Apple's Worldwide Developers Conference in June. But we were hoping Apple would add some iPad-only features in iOS 10 that would fix a few problems and make the Pros even more awesome, or at least show off some new partner apps that take advantage of all that screen real estate.
Alas, the iPad was a footnote in iOS 10's parade of features. The device gets most of the good stuff, like the revamped Messages app, a new lock screen with rich notifications, and smarter Photos, but the iPad-only tweaks are just that: minor changes.
Of course, it's entirely possible that Apple will add more functionality for the iPad in future beta releases, because beta software is a work in progress. Apple has until September to listen to feedback from developers and the public. I put the iOS 10 developer beta on a 12.9-inch iPad Pro to see the iPad-specific features in action:
Mail and Notes get three-pane interface
I really dig the giant iPad Pro, but not a lot of apps make good use of that massive display. iOS 10 brings a three-pane interface to Mail and Notes on the 12.9-inch model, and it's so useful that I hope Apple will open up that functionality to developers so I can have the same multitasking abilities in Outlook.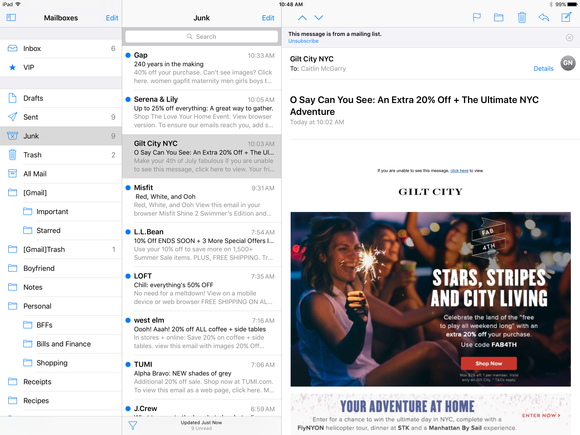 To view all three panes, turn your big Pro from portrait to landscape mode and tap a new multi-pane icon on the top left of your screen and watch the app expand. You'll only see this icon in Notes and Mail, and only on the 12.9-inch Pro. If you have a lot of email to wrangle or a slew of notes in various folders (as you can see below, I clearly don't), the new view will go a long way toward helping you stay organized.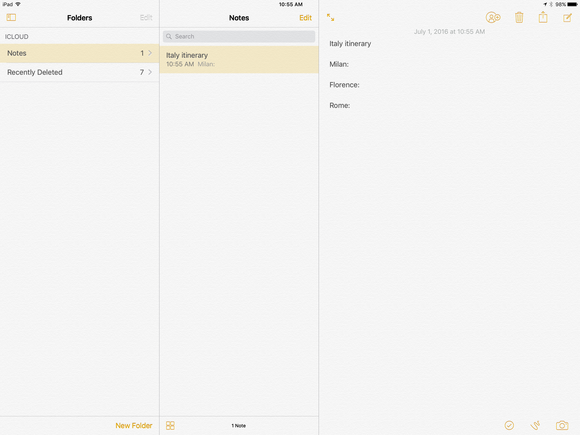 Split View finally comes to Safari tabs
Multitasking on the iPad Pro is supposed to be easy. But one way I multitask on my Mac is by having a few web browser windows open at once so I can compare notes without toggling between tabs. Now I can easily do that on the iPad with Split View for Safari tabs, new in iOS 10.