In Depth: A month with the iPad Pro
Apple's big tablet is the ultimate (literal) laptop, and with the right accessories, a pretty good desktop replacement.
I've also tried two keyboard cases, one from Apple and the one made by Logitech. Both use the new Smart Connector found on the side of the iPad Pro, which gives power and data to devices that require it. Both protect the iPad's display, but the Logitech version fully envelops the iPad Pro in a shell capable of taking a decent beating. This comes at the expense of bulk and weight, which is a negative when you consider that tablets are designed with portability in mind.
At the other extreme, the Apple Smart Keyboard case protects the display but leaves the backside exposed. It's much thinner than the Logitech case, barely larger than the standard Apple Smart Cover.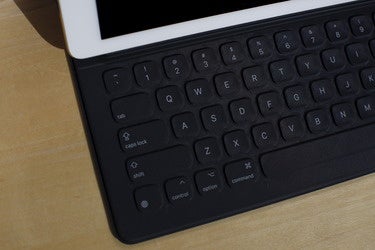 Credit: REUTERS/Stephen Lam
Both keyboards work well, but the Logitech case feels more like a MacBook Pro keyboard then does the Apple Smart Keyboard case. The Logitech case also has backlit keys, just like the MacBook Pro. And since it's drawing power from the iPad Pro, it doesn't need to be charged.
Unlike the Apple keyboard, the Logitech keyboard has dedicated buttons for shortcuts, including traditional Mac-specific keys like Command, Option, and Control as well as dedicated keys for Search, exit to Home Screen, Lock, and brightness controls. Not coincidentally, iOS 9 supports physical keyboards much better than before, and if you require hints about what apps can do, pressing and holding modifier keys like Command displays a pop-up list of keyboard shortcuts.
An important caveat: In the middle of this review, Apple released iOS 9.2 for iPads, iPhones and iPod touch -- and it made |using the Logitech keyboard case a nightmare. Typing became slow and the keyboard responded randomly, or not at all, to various keys being pressed. I wasn't the only person to see the degradation. Hopefully, an update will remedy the problem soon.
Interestingly, the Apple Smart Keyboard was not affected, nor are other Bluetooth keyboards. One step forward two steps back.
All about the software
There's no denying the iPad Pro is a productivity device. I've written many reviews on my iPads, but the Pro is particularly adept at getting things done. This review was written on the iPad Pro; about 85% written and researched sitting on my lap in landscape, without any accessories at all. The other 15% of my time was spent trying out the two keyboards.
I was also able to edit 4K video using Apple's iMovie app, which makes it easy to do on the go. iMovie for iPad is not as comprehensive a tool as Final Cut Pro for OS X, but that doesn't mean you can't produce good works; iMovie for iOS lets you create basic trailers via drag and drop as well as detailed and complex edits. Whether I was editing Standard definition or 4K video, iMovie remained responsive and fluid -- a credit to the beefed up hardware inside.
Previous Page 1 2 3 4 5 6 Next Page