If you return a tech gift this Christmas, make sure you erase all your data first
You'd never just give your phone or tablet away to a stranger on the street, would you?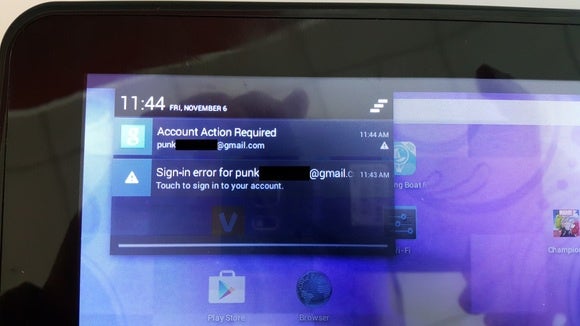 Credit: Mark Hachman
The first tip that something wasn't quite right about the open-box tablet I had purchased from Fry's Electronics was that fact that Marvel Contest of Champions appeared on the home screen.
I had sought out the most run-down, crappiest tablet I could buy for our buying guide on productivity tablets, as an example of what not to buy during the holiday season. The Visual Land tablet I found for about $70 was two years old, with visible pixels and a loose power connector. I powered it up, just to ensure that it would work... and discovered that it was still keyed to someone else.
Almost as soon as the tablet connected to my local Wi-Fi, a notification popped up: "Account Action Required" for the user's account, and that there was a corresponding sign-in error as well. The user had obviously changed his or her password after sending back the tablet, meaning that anyone who had purchased it (me) couldn't access any critical personal information. Nor did I want to; I factory reset it, sending whatever personal information was stored on the tablet into oblivion.
Why this matters: Every digital device you own is a potential portal that someone can use to peer into your personal life: providing access to your email, social media, cloud storage, and other accounts. Yes, most of us have internalized some security practices: antivirus software is now a way of life, we advise friends and relatives not to click on suspicious email, and we usually know what to do if we lose a phone. But with all the rushing around we do these days, sometimes something as small as erasing a tablet falls through the cracks. And once you've returned a device to a store, it's out of your hands.
Lessons to learn
The lesson to take away from all this, however, is not to do what the person who owned and then returned this tablet did. Yes, changing your password after you've returned a phone, tablet, or computer may lock out other prying eyes from accessing your account and other personal information. But if you downloaded email, photos, apps, or other data, any information stored locally will remain for anyone who wants to pore through your personal life.
So how do you ensure that your device is wiped clean of all data? Follow these steps. Just be sure that anything stored on the device is backed up to the cloud or elsewhere. Once the reset is performed, all the data on the device is gone forever.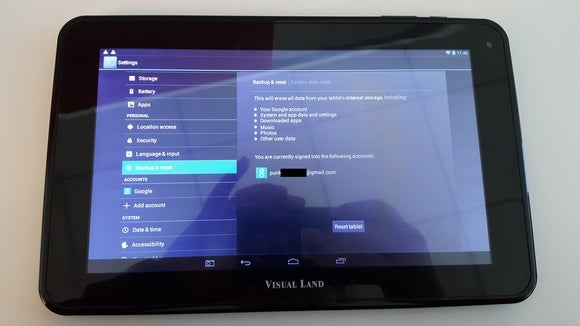 Always make sure that you reset the device before returning or disposing of it. Credit: Mark Hachman