HTC One A9 review: A stylish iPhone clone that isn't worth its premium price
HTC would have a hit on its hands if it weren't so optimistic about how much you'd be willing to pay for this small, mid-range phone.
Also, according to the Manual Camera Compatibility test, the One A9 does not support Lollipop's Camera2 APIs at all. The Pro mode that's on this phone is good for what it is, but if you're looking to use one of the excellent manual camera apps in the Play Store, you're going to be disappointed.
The One A9's slow motion mode seems to shoot at 24 fps by default.
You can adjust the speed and length of your time lapse when you've finished recording it.

This is the "manual" photo the One A9 took with the shutter speed set at two seconds.
The front-facing camera is still a 4-megapixel UltraPixel sensor. It's pretty good for selfies and it's capable of 1080p video, though I don't like the way it took the green hue of my living room and just ran with it. The One A9's rear camera only shoots up to Full HD (1920x1080) video, however, so if you were hoping for some affordable 4K video shooting action, you're out of luck here. And slow motion shooting is limited to a paltry 1024x576 resolution.
NonSense UI
In the past, HTC's Sense UI was the least offensive version of Android out there. But since Android's Material Design became a standard, it feels like a nuisance.

Sense is okay, but I'd much rather see Marshmallow all over this thing.
Sense UI's narrow typeface and crowded application drawer is overdone. The interface is supposed to match the sleek, modern profile of the phone's exterior design, but it's just annoying to deal with. Sense's theming engine isn't too exciting, either, especially considering that any apps you install without corresponding icons will look out of place. I would have much rather preferred that HTC do what Asus did and allow you to apply third-party icon packs from the Play Store.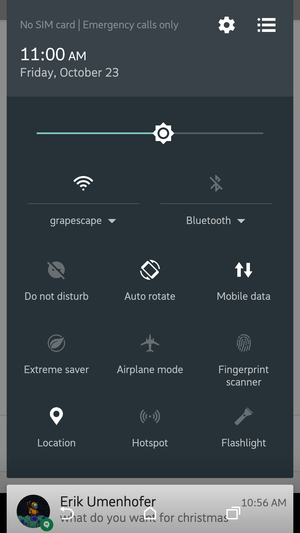 At least HTC left the Quick Settings panel alone.
At least HTC kept some of the interface elements of Android Marshmallow. The Quick Settings drop down is similar to the one you'd experience on a Nexus device. The main Settings app also features quick toggles for things like Wi-Fi and Bluetooth, while stock Android requires a few extra taps to turn off and on. You can also use the Personalize feature to change the theme, accent colors, and font style of the interface, so you don't have to deal with the narrow typeface.
This is the worst part of HTC Sense, however:

ADS? IN MY INTERFACE?!
Previous Page 1 2 3 4 5 Next Page