HTC One A9 review: A stylish iPhone clone that isn't worth its premium price
HTC would have a hit on its hands if it weren't so optimistic about how much you'd be willing to pay for this small, mid-range phone.
A very decent camera
We were pretty disappointed by the One M9's 20-megapixel camera. A flagship phone should act as your everyday point-and-shoot, but the One M9 simply didn't cut it.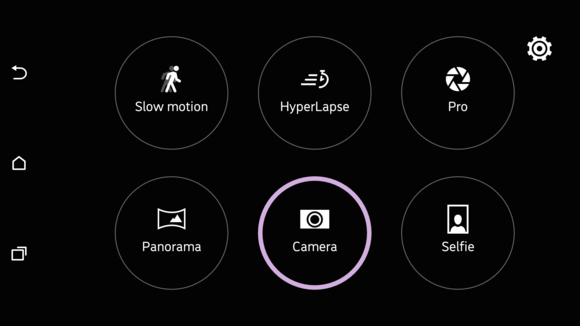 HTC's fantastic, simplified camera interface is back with new camera modes.
Fortunately, the One A9's rear-facing 13-megapixel camera sensor is an improvement over its predecessor. The white balance is much better this time around and the HDR works wonders in tough lighting situations. HTC also went in and tweaked the low light performance issues, though it's only marginally better than the One M9.

On the left is the One M9's camera test, and on the right is the One A9's. You can tell there's been a bit of white balance tweaking in the second photo.

The low light performance is only marginally better. Photos are warmer, but if the lamp is all the way in the back of the room you won't have too much success.
I'm concerned about how long it takes the One A9 to focus on a moving subject in dim lighting. I'm so used to snapping away with the Galaxy S6 Edge and the Nexus 6P, but the One A9 couldn't keep up with my cat. It was hard to capture a decent, still photo of her pacing around the living room. She was desperate and hungry for food, but I needed a model. It took several tries before I could get a photo of her and I had to act fast. I also noticed that although the One A9 has optical image stabilization, you still need to tap to focus on the subject before shooting.

I tried the "point and shoot" method with the first two photos, but they came out blurry. The best photo is when she managed to sit still and I had more time to snap her.
The One A9 has a few camera tricks up its sleeve. It takes slow motion video, though you can't adjust the frame rate for it. It also does Hyperlapse, though you'll want to invest in a smartphone tripod setup to take advantage of that. And there's a Pro mode of sorts that shoots in RAW, which I found is useful for taking long exposure nighttime shots. I wasn't too impressed by the end result, however; it was too grainy and fuzzy to bother transferring into a post-processing application like Adobe Lightroom. The Pro mode is nice for making neat Instagram shots, but it's nothing like what the LG G4 can do.
Previous Page 1 2 3 4 5 Next Page