HTC One A9 review: A stylish iPhone clone that isn't worth its premium price
HTC would have a hit on its hands if it weren't so optimistic about how much you'd be willing to pay for this small, mid-range phone.

The One A9's fingerprint scanner is seriously fast. Credit: Florence Ion
Like its older siblings, One A9 also has impressive stereo speakers, though you'll have to be careful not to cover the bottom speaker. The top speaker funnels through the earpiece and is not as well-amplified.
Totally mid-range performance
While the design is top-notch (if very familiar), the performance of the One A9 is as mid-range as mid-range phones get. Its fared well with daily tasks, but I would occasionally experience a bit of lag between entering in the pattern unlock, for instance, and loading up the Home screen. I counted a few times I had to sit back and wait for the interface to suss itself out.
Our performance benchmarks showed that the One A9 has some kick to it, however. Its 1.5GHz octa-core Qualcomm Snapdragon 617 processor and 3GB of RAM didn't manage to keep up with competitors that cost less, including the Moto X Pure Edition and LG-made Nexus 5X.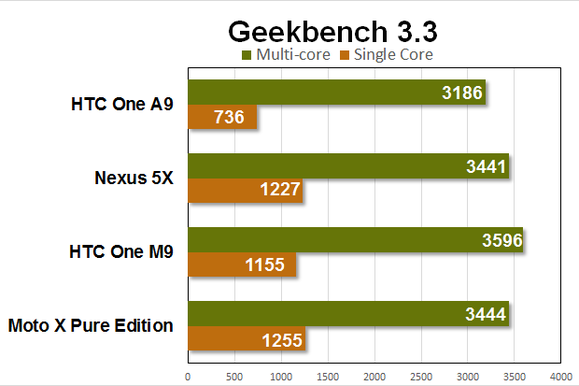 In Geekbench, the One A9 shows dramatically slower single-thread performance. Click on image to enlarge.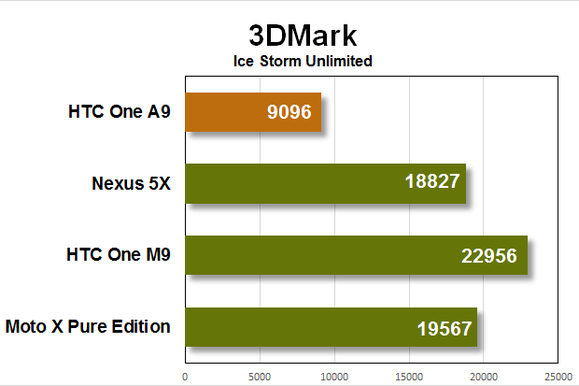 It trailed behind in 3DMark, however, which measures 3D graphics performance. Click on image to enlarge.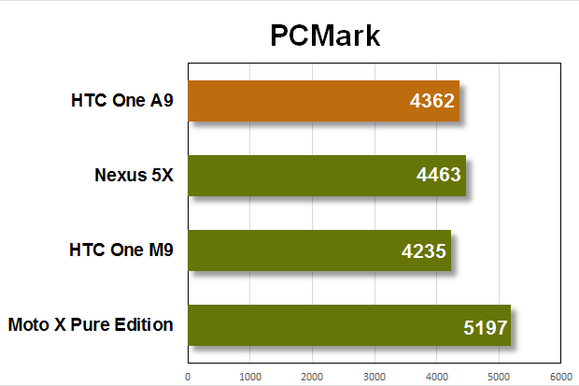 At the very least, the One A9 can keep up with daily smartphone tasks. Click on image to enlarge.
I was curious about how much I could get out of the One A9, so I loaded Google's Street View app and then popped it in to Google Cardboard. My fiancé and I had some fun for about twenty minutes virtually perusing through the Grand Canyon and Yosemite. The One A9 was absurdly hot afterwards, but it managed to keep up with every slight head turn and button press.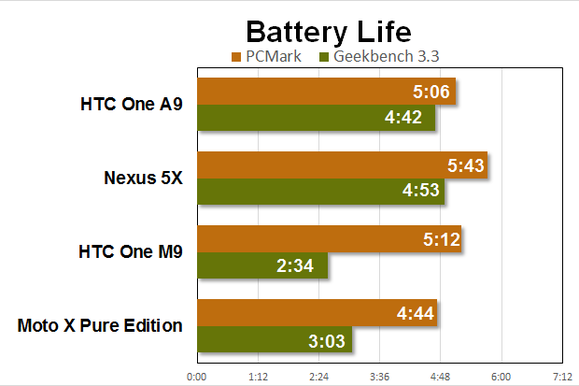 The One A9's overall battery life is very impressive. Click on image to enlarge.
I was surprised at the One A9's battery life. I figured that with its 2150mAh battery pack it wouldn't last as long as its competitors, but I was wrong. In the Geekbench battery test, the One A9 lasted just as long as the Nexus 5X, which boasts a larger 2,700mAh battery pack. In PCMark, it came in at about 40 minutes below the Nexus 5X. The One A9 lasted through the weekend on standby, too. It helps that it's running Android 6.0 Marshmallow already, so that when it's laying on the sidelines, it kicks into Doze mode. The slower Snapdragon 617 chip is partly responsible for going easy on the battery, too.
Previous Page 1 2 3 4 5 Next Page