HP Spectre x2 review: A Surface clone for a lot less cash
It has touch. It has pen support. It has the same cover-style keyboard. But there are differences, and we dive deep into them here.
Bang for the buck
Price is one category where the Spectre x2 really shines. The model here you see with Core m7, 8GB of RAM and 256GB with the keyboard and LTE will set you back about $1,150. If we bop on over to Surface-land, a grand gets you a Surface Pro 4 with the bare minimum of 4GB of RAM and a 128GB SSD. You get the pen for free, but the must-have $130 keyboard brings you to $1,130 total.
To get a comparable amount of storage and RAM on a Surface Pro 4, you're looking at the Core i5 model for $1,430 with the keyboard. That doesn't even count the LTE modem in the Spectre x2, which Microsoft doesn't offer currently—and if it did, it'd probably cost $100.
The Spectre x2 is such a deal, it really competes with the budget Surface 3 too. Yes, the Surface 3 is smaller and lighter, and that plays well to its basic computing use but the base Spectre x2 with a Core m3 chip, 4GB of RAM, 128GB SSD and keyboard included will set you back $800. To get to the same RAM and storage as the Spectre x2 with a Surface 3 will cost you $729.
I've made my peace with Atom, and Atom X7 is definitely an improvement over the previous iteration but you're getting a lot more computer for Spectre x2's extra 11 ounces of weight.
Conclusion
So is the Spectre x2 a better Surface than the Surface Pro 4? I had high hopes, but it looks like Microsoft's higher-end components are paying off.
For a first attempt, though, this ain't bad. I really see the Spectre s2 as more of a half step back behind the Surface Pro 4. For people who just want the same form factor for general use, the Spectre X2 is a worthy alternative and certainly gives you more value against the Surface Pro 4, and more performance against the Surface 3.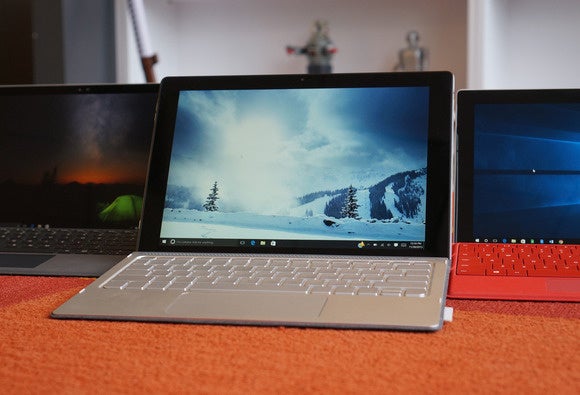 Is the Spectre x2 a better Surface Pro? Not quite, but it's certainly a better deal. Credit: Gordon Mah Ung