HP Spectre x2 review: A Surface clone for a lot less cash
It has touch. It has pen support. It has the same cover-style keyboard. But there are differences, and we dive deep into them here.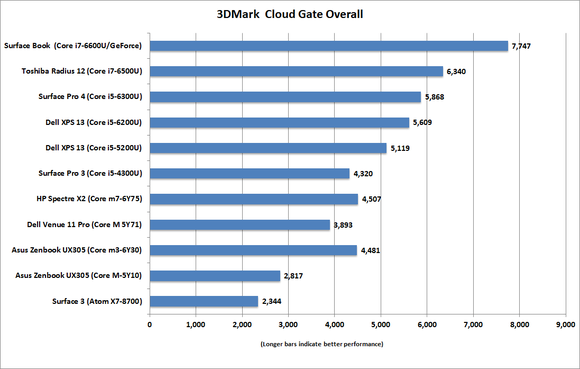 Graphics performance of the newer Skylake Core m-series doesn't disappoint. Click on image to enlarge.
Battery life
Normally we rely on MobileMark 2014 1.5 for our battery tests. This month, however, the test gave us nothing but heartbreak on three different laptops, so something with the latest Windows 10 update is playing havoc. For plan B I decided to use the same video rundown test I did for my Surface Book vs. Mac Book Pro story. I basically looped a 4K short independent movie on airplane mode, with audio on and running into a pair of Samsung ear buds. For backlighting I selected a fairly bright 255 to 260 nits. This is a brightness setting you might use in a well-lit office or home.
As the screen uses most of the power in a device, you can expect this high brightness to reflect in shorter run times. If I cut the brightness in half or more, I'd expect it to add 30 to 40 percent or more battery life. Battery life is also impacted by the video player, so I selected Windows 10's Movie and TV player. It's the most efficient player, period (which I'll document in a future story.)
HP claims 10 hours of video playback for the Spectre x2, while Microsoft claims 9 hours for the Surface Pro 4. Obviously the video file they played, the volume they set and how bright the screen was different. As the Spectre x2 has a slightly larger battery, technically more efficient CPU, and lower-resolution screen, I expected it to at least beat the Surface Pro 4. However, its results using the beefy 4K content and brighter screen gassed out at about 6.5 hours. The Surface Pro 4 actually pulls in a little later but still well under 7 hours of run time.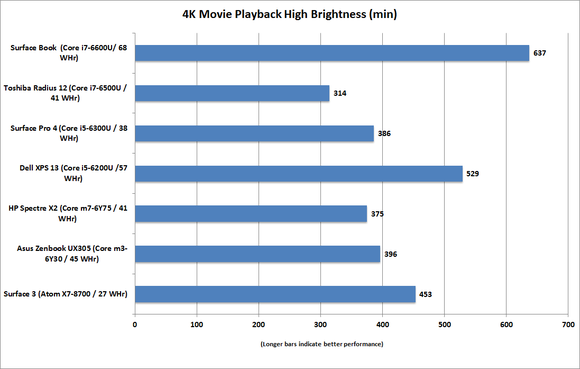 Battery life on the Spectre x2 was fair with our challenging video playback test.
The reason why the Surface Pro 4 prevailed (slightly) likely comes down to the awesome display Microsoft uses. It's incredibly efficient and was measured to use just 4.8 watts of power. For comparison, the iPad Air 2's panel uses 8.3 watts. HP doesn't provide specifics for the Spectre x2's panel, unfortunately, so my educated guessing ends there.
Another area where you're not seeing the savings gains of the Core m7 is the light load video playback puts on the chips. With the efficiency of Windows 10 Movies & TV app, both devices are basically using minimal CPU power to play the 4K video file. The Spectre x2 loses the efficiency contest with the Surface Pro 4, but the worst of the bunch remains the Toshiba Radius 12/ That's likely due to its 4K resolution screen. That's just a lot of pixels to light up.
Previous Page 1 2 3 4 5 6 Next Page