HP Spectre x2 review: A Surface clone for a lot less cash
It has touch. It has pen support. It has the same cover-style keyboard. But there are differences, and we dive deep into them here.
First up is Cinebench R15. It's a 3D rendering app, perhaps an unlikely use on the Spectre x2 but still a great tool for measuring computing grunt.
I'm testing all the cores here with CineBench R15, which takes about five minutes to render one frame of a 3D scene. The performance of the Spectre x2 and its Core m7 is a little underwhelming, but not that bad for where it swims. If you look at the chart below, you can see the Core i5 and Core i7 parts with their fans and higher power consumption ratings in front.
The two Asus laptops, the Dell convertible tablet and HP Spectre x2 are all fanless Core M, and it shows. Of the four Core M and Core m-based devices, the Spectre x2 is the slowest by a small margin. The explanation is likely due to its size and having a hot screen pressed up against it. The Dell Venue 11 Pro is also a tablet convertible, but it's as thick as a phonebook so cooling seems to be less of an issue. The two Asus Zenbooks are laptops rather than tablets, so their cooling systems are under less pressure. That Atom-based Surface 3? In racing, it's called dead last.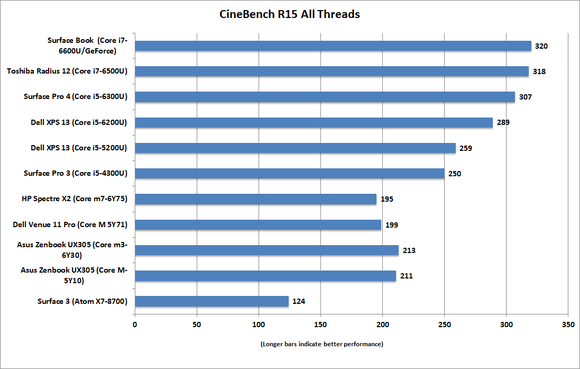 The Core m and Core M CPus lag behind Core i5 and Core i7 chips in pure CPU performance. Click on image to enlarge.
Office performance
You may see the CineBench R15 scores and look down on Core m7, but how does that translate to a task closer to what most people do? For that, I turned to PCMark 8's Work test. It's basically a measurement of performance while browsing, word processing, performing light-duty spreadsheets and video chatting. It really should be called the Office Drone test. The results confirm what you should already know: For Office Drone work, you don't need much and you probably won't be able to feel the difference between a Core m3 or Core i5 chip. The Spectre x2's Core m7 actually turns in the best performance of the fanless Core m devices, which tells me that under lighter workloads that only stress the CPU in short bursts, it's actually faster.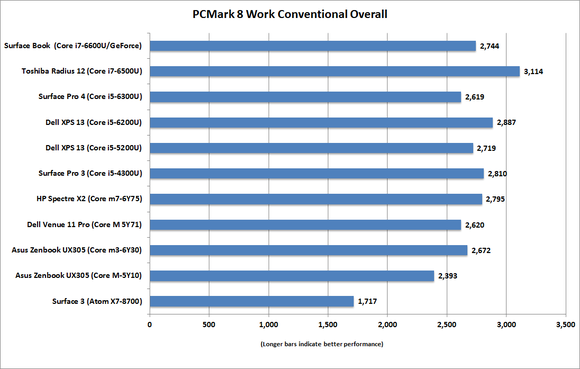 For most Office tasks, you'd be hard pressed to feel a difference between a Core i7 or Core m chip. Click on image to enlarge.
Graphics performance
Moving onto to graphics, I turned to 3DMark's Cloud Gate. Here we can see the nice upgrade the Skylake-based Core m chips get. The Spectre x2 is actually a little faster than the two-generation-old Haswell Core i5 chip in the Surface Pro 3. Graphics also step up over the Core MY71 in the Dell Venue 11 Pro, which was one of the top Core M chips of its time. Even the lowly Core m3 hammers the older lower-end Core M parts.
Previous Page 1 2 3 4 5 6 Next Page