HP Spectre x2 review: A Surface clone for a lot less cash
It has touch. It has pen support. It has the same cover-style keyboard. But there are differences, and we dive deep into them here.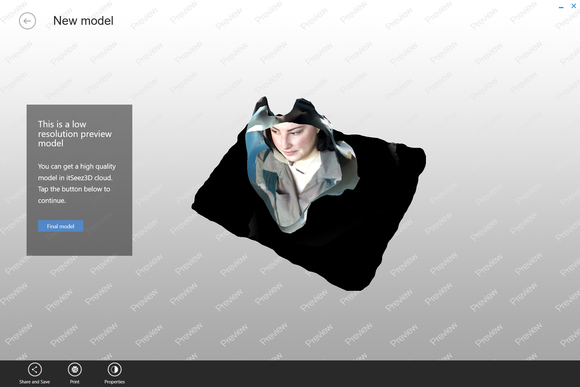 The beta itSeez3D app for the RealSense camera is clearly still beta.
The Spectre x2 includes pen support using a Wacom active stylus rated at 2,048 levels of sensitivity. Yowza! In the pure specsmanship game, that sounds like a lot more than the Surface Pro 3's 256, the Surface Pro 4's 1,024 and the iPad Pro's 1,024. Unfortunately the pen is an extra-cost option (though fairly cheap at $40), so I didn't have it to compare to the Surface Pro or iPad Pro implementations. Regardless, it's probably fine for signing a PDF or document on occasion or doodle while your boss drones on in a meeting.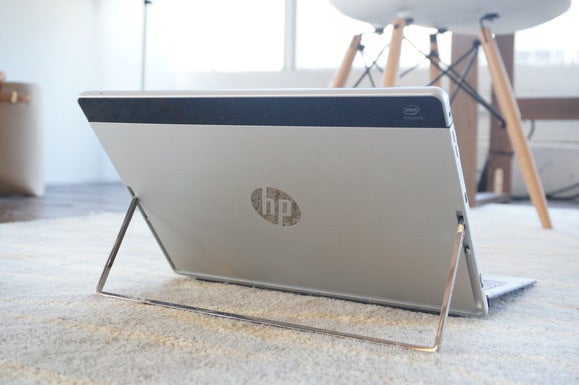 Here's a full view of the kick-stand design HP uses on its Surface clone. Credit: Gordon Mah Ung
What's inside
Inside you get Intel's Skylake-based Core m3 through Core m7, and from 4GB of LPDDR3/1600 to 8GB of LPDDR3/1600. SSD options run from 128GB to 512GB. The model I reviewed is the Core m7 model with 8GB of RAM and a 256GB SSD.
The SSD is an m.2 Lite-On model hooked up to SATA rather than the faster PCIe. Sequential read speeds will saturate the SATA bus at 550MB/s, but writes are a mid-pack 284MBps according to Crystal Disk Mark 5. For comparison, the mid-range Surface Pro 4 with its NVMe M.2 drive will hit three times that in sequential reads and writes, at about 521Mps. For normal use you won't notice the difference, but under heavier disk chores, like unzipping a large file or copying from a fast USB device, you'll see it.
For wireless you get 2x2 802.11ac and Bluetooth 4.0. LTE. The latter is available only on the mid-range and higher-end models.
If you're turning your nose up at Core m, you shouldn't. When introduced at the end of 2014 with the Broadwell Core M, performance was all over the map depending on how OEMs implemented their fanless designs. The chip eventually earned a poor rep, but it's not deserved. In fact, I'd take a Core M over even Intel's newest Atom x7 any day of the week and twice on Sunday.
In this particular Spectre X2, you're seeing Intel's top part: Core m7-6Y75. Let's take a look at how it performs.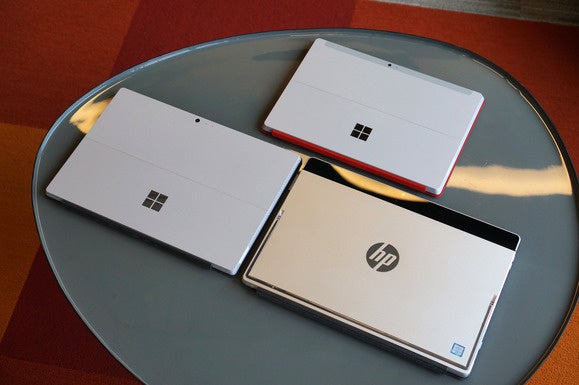 HP's Spectre x2 next to a Surface Pro 4 and Surface 3. Credit: Gordon Mah Ung
CPU performance
As this is the first Skylake-based Core m chip we're testing, I wanted to dig a little deeper into pure performance. I'll be writing a longer story focusing on Core m performance down the road but it's worth a few more charts than normal today.
Previous Page 1 2 3 4 5 6 Next Page